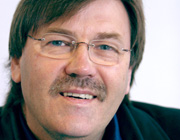 Chris Cole FRSA
I have written a few times in the past year or so about how the economic crisis can be a great opportunity for us to review our values, as we face the loss of income, jobs, or even homes due to financial pressures.
It is devastating to lose one's job, even more so one's home. For many people this has already become a reality, and the signs are that 2010 may see even more job losses and repossessions.
Most economic forecasters say that we will see some kind of recovery in 2010, but many are adding that this will be fuelled by debt, and that it will be followed by a second 'dip', or another recession. Put another way, we could be looking at a W shaped recession, with a rise and recovery followed by another fall, rather then a U shape, where we would recover steadily. However the economists explain it, it's not good news if our security is in money.
The Good Book offers some ancient wisdom that has been tested over thousands of years by intelligent people who have a belief and faith in God. The bible records more teachings from Jesus about finance than about any other single subject.
This may be surprising, until you consider Jesus' main statement about where we put our trust: "No one can serve two masters. Either he will hate the one and love the other, or he will be devoted to the one and despise the other. You cannot serve both God and Money." (Matthew chapter 6 verse 24).
The key issue is who or what do we trust with our lives, God, or money? Jesus was clear, they cannot both be our masters, and it's a choice, one or the other. For those who trust money, they will not be able to love and trust God. For those who trust God, they will not be controlled by the treacherous whims of the economy.
It all comes down to values. When the 'god' of money lets us down and shows itself for the fickle slave-driver that it is, bringing misery and not producing happiness on its own, many folk start to ask deeper questions about what life is all about.
All around us, people are reviewing their priorities, down-sizing and simplifying their lives and waking up to the fact that money, whilst an incredibly useful, even powerful tool, does not bring us love, which is the deepest human need.
As a servant, money can be made to serve good purposes. In and of itself it is not a bad thing (Jesus called the love of money the root of all evil, not money itself.) But as Master, money is harsh and untrustworthy, it lets most of us down at some point and, like a drug, it usually produces in those who pursue it an ever-increasing desire for more.
By contrast, the real values of loving others, courageous friendship and compassionate service, the receiving and giving of the good things of life, result in benefits to others apart from ourselves, and a sense of wellbeing that just cannot be bought.
During the next year or so, if things become as bad as some say they will, let's take the opportunity to at least question 'what are my values, what do I really believe and what do I see as important in life?' It's so easy to get caught up in the pursuit of money. The failure of money to deliver what our souls are craving, the loss of the ability to 'entertain ourselves to death', may be the best thing that could happen to us.
This article was originally published in the Plymouth Shopper, a group of 7 localised community newspapers produced by Cornerstone Vision, reaching 62,000 homes every month in Plymouth. Each edition carries positive news stories and features, and provides local businesses, community groups and organisations with a very localised media platform to reach their own area.

The opinions expressed in this article are not necessarily those held by Cross Rhythms. Any expressed views were accurate at the time of publishing but may or may not reflect the views of the individuals concerned at a later date.
About Chris Cole FRSA

Chris
is the Founder of Cross Rhythms. He is also a partner in the Christian marketing company
Cornerstone Vision
and part of the Directorate for
The Word In Action
. Chris with his wife Kerry have also planted a church called Cornerstone in Plymouth.
Chris and Kerry speak at a number of national conferences on Christian lifestyle, marriage and culture.
We welcome your opinions but libellous and abusive comments are not allowed.