Psalm 103, Philippians 3:12-14, Isaiah 43:18-19

Jeff Cutts shares the importance of remembering what the Lord has done for us.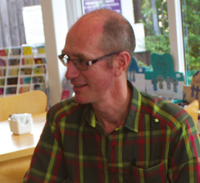 Jeff Cutts
As I have been reading over the past couple of days, I have been thinking about what I remember and what I forget. Since you are reading this Life File you'll not be surprised to hear that God's word has some things to say about remembering and forgetting; I pray you are encouraged and have God's mind as you read on.
Of course there are some things we want to remember (yes you, cramming for those exams) and some things we want to forget (that embarrassing time I used the toilet at a music festival and when I turned round found the door had swung open and I was floodlit in front of a kazillion people - groan). What we remember and how we remember things can help or hinder us, specifically though, what is going to help you and I in living for God?
There are some things God wants us to remember, when you tell someone about something God has done in your life, even if you just rehearse it to yourself you are doing something powerful.
Psalm 103 says: "Praise the Lord, my soul, and forget not all his benefits - who forgives all your sins and heals all your diseases."
When someone talks about how they came to faith, or how God healed them or provided for them in some way we say they give a testimony. This is really bringing past events to memory and declaring them as true, and in doing so you really you are remembering God's benefits. More than that really we are sharing with others that 'God did this for me, and He can do it for you!'
So remember to remember what the Lord has done for you, do not forget all His benefits, especially at a time of need or difficulty when you feel weak of fearful. Remember He forgives. Remember He heals. Remember He loves. Remember He is God Almighty and if He is for us, who can stand against us?
Now, imagine you are going to run in a race. On your marks, set, GO! What happens if you turn your head right back over your shoulder and look behind you as you run? You'll soon run off course, trip over or something, but you won't win the race.
The Apostle Paul writes in Philippians 3:12-14: "I press on to take hold of that for which Christ Jesus took hold of me. Forgetting what is behind and straining toward what is ahead, I press on toward the goal to win the prize for which God has called me heavenward in Christ Jesus."
In my experience there are somethings that we are better off forgetting, choosing to look forward instead; past life sins and mistakes that we have brought to God and been forgiven for are one thing. The enemy of our souls - the accuser - tries to remind us of our past, but the Lord removes our sins from us, 'as far as the East is from the West'. (I'm glad God didn't say from the North to the South, that distance can be measured, God's forgiveness is immeasurable!)
If you are struggling with guilt or condemnation ask God to take this from you and maybe pray about it with a trusted friend. If you are feeling downhearted then 'forget not all his benefits'. May you find freedom in choosing to remember and to forget.
Isaiah 43:18-19 says,"Forget the former things; do not dwell on the past. See, I am doing a new thing! Now it springs up; do you not perceive it? I am making a way in the wilderness and streams in the wasteland."

The opinions expressed in this article are not necessarily those held by Cross Rhythms. Any expressed views were accurate at the time of publishing but may or may not reflect the views of the individuals concerned at a later date.
Sign up now to receive weekly Life Files, direct to your inbox.
We welcome your opinions but libellous and abusive comments are not allowed.