Exodus 14: 8, Psalm 84: 5, Acts 20: 24, 1 Corinthians 9: 24, Philippians 3: 14, Hebrews 12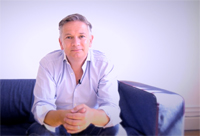 Matt Summerfield
The Israelites were all feeling dead-chuffed! They'd finally managed to escape the tyrannical clutches of Pharoah, under the slightly reluctant leadership of Moses, and were now heading towards the Promised Land with a significant amount of Egyptian loot. Exodus 14: 8 tells us that they were 'marching out boldly". It's easy to march forward boldly, of course, when things are going well. But for them, things were about to take a serious turn for the worse!!
Suddenly they found themselves dangerously hemmed in! Trapped! In front of them was a vast ocean, too deep to walk across, and behind them was Pharoah and his entire army, hell bent on revenge and recapture. There was only one thing for it - panic! Suddenly their boldness turns to utter terror "It would have been better for us to serve the Egyptians than to die in the desert!" they cry, and Moses becomes public enemy number one.
Moses tries to re-assure them that there is nothing to fear but eventually he feels the need for a conversation with God. God's response is alarmingly blunt and to the point "Why are you crying out to me?" He asks, "Tell the Israelites to move on?". Move on? Was God having a laugh? Did He not see the deep waters that lay ahead? How could they keep moving faced with such a predicament? "Keep moving" God says, "And as you step forward in faith, disregarding the perils that your eyes can see, watch what I'm about to do!!"
And we all know how the story ends!
This story has really challenged me recently about God's desire for us to keep moving. I sense that the words 'retreat' and 'surrender' don't feature highly in God's vocabulary. He wants us to always be courageously moving forwards, in the good times and the bad, taking up our cross and following Him.
Psalm 84: 5 reminds us that "Blessed are those whose strength is in you, who have set their hearts on pilgrimage". Paul was almost fanatical about our need to keep moving (Acts 20: 24, 1 Corinthians 9: 24, Philippians 3: 14).
Yet, if we're honest, there are times for all of us when we're tired or afraid and feel ready to give up. The problem though, is that in the same way that you can't steer a stationary car, God can't steer a stationary Christian! So even though it might get really tough, and we're wondering what the future holds, the Spirit of God continues to whisper "keep moving". And doesn't Hebrews 12 remind us that this challenge is also echoed by a crowd of Heavenly witnesses, who also inspire us to "keep moving"?
Friends, don't give up and don't give in. If you're feeling hemmed in today and don't know where to turn, I pray that you will hear the words of your Heavenly Father who loves you more than you'll ever understand. And His message to you is not a message of rebuke or disappointment, it's simply the loving challenge of a Mighty God who wants us to realise His dream for our lives.
So with the knowledge that He is at His best when life is at its worst, He bids us...He encourages us...He challenges us...to keep moving!
* What things are you currently struggling with that are preventing you 'keeping moving'?
* How do the passages of scripture in Psalms 84: 5, Acts 20: 24, 1 Corinthians 9: 24 and Philippians 3: 14 challenge your thinking?
* What practical action can you take today to ensure that you 'keep moving'?

The opinions expressed in this article are not necessarily those held by Cross Rhythms. Any expressed views were accurate at the time of publishing but may or may not reflect the views of the individuals concerned at a later date.
Sign up now to receive weekly Life Files, direct to your inbox.
We welcome your opinions but libellous and abusive comments are not allowed.