Hebrews 12:1, Philippians 3:13-14, James 1:2-4, Isaiah 40:30-31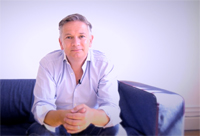 Matt Summerfield
In the last few months I've been reading a book which reflects upon the leadership style of Winston Churchill. Whatever your persuasion about Churchill's leadership ability he was certainly a passionate visionary, committed to persevere through very challenging days. He was also a connoisseur of the inspirational quotation. As we begin a new year and prepare for the joys and challenges that no doubt lie ahead, some of the more famous words of Churchill spring to mind.
Churchill was well aware of his weakness and deficiencies. He once said "I have nothing to offer but blood, toil, tears and sweat". I certainly feel like that sometimes. I'm sure you do to! And yet, the older I get the more I understand that God is more interested in my availability rather than my ability. Of course, there will always be moments when we feel like throwing in the towel. But again, Churchill famously reminds us "Never give in, never give in, never, never, never, never, in nothing, great or small, large or petty, never give in except to convictions of honour and good sense."
I always find the 'break' between Christmas and New Year an ideal opportunity to reflect, ensuring that I'm on the right track in all avenues of my life. I think about the mistakes I've made and the lessons I've learnt - hopefully so as to ensure that they are not repeated (at least, not too soon!). It's easy sometimes for us to have a wrong measure of what success looks like in our ministry. I can more easily identify with Winston's reflections on success when he said "Success consists of going from failure to failure without loss of enthusiasm." The people who are really successful are the ones who persevere. Who keep on keeping on - whatever the challenge!
This theme of perseverance pervades the pages of our Bibles, reminding us that perseverance is an essential characteristic of those who are committed to following Jesus.
The writer to Hebrews calls us to ".run with perseverance the race marked out for us" (Hebrews 12:1).
Paul, who could easily have spent much time grieving his troubled past, declares ".one thing I do: Forgetting what is behind and straining towards what is ahead, I press on towards the goal to win the prize for which God has called me heavenwards in Christ Jesus" (Philippians 3:13-14).
James takes the challenge a stage further, reminding us that perseverance is essential to our maturity and wholeness. James dares to suggest that we should "consider it pure joy, my brothers, whenever you face trials of many kinds, because you know that the testing of your faith develops perseverance. Perseverance must finish its work so that you may be mature and complete, not lacking anything" (James 1:2-4)
2006 will no doubt be a year full of highs and lows. There will be moments where we rejoice as we sense the power and closeness of God. There will also surely be moments where we might wonder whether God has left us - or even exists? My encouragement to you today is to 'keep on, keeping on'. As Churchill said "Never give up". You can't have a victory without a battle. Let's commit ourselves to make ourselves available to God this year, walking humbly before Him and trusting Him to keep us from falling. In fact, let's believe that, with Him, we can soar on wings like eagles.
"Even youths grow tired and weary, and young men stumble and fall; but those who hope in the LORD will renew their strength. They will soar on wings like eagles; they will run and not grow weary, they will walk and not be faint." Isaiah 40:30-31

The opinions expressed in this article are not necessarily those held by Cross Rhythms. Any expressed views were accurate at the time of publishing but may or may not reflect the views of the individuals concerned at a later date.
Sign up now to receive weekly Life Files, direct to your inbox.
We welcome your opinions but libellous and abusive comments are not allowed.