John 13: 34, 1 Corinthians 13: 1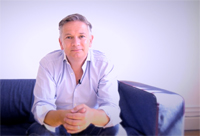 Matt Summerfield
Lucy was 14 when she first came to our youth group. I remember chatting with her after the meeting. She talked for ages about her struggles - "no-one usually listens"! And when I thought that life couldn't get any worse for her, her father was arrested and imprisoned. The family were devastated, but planned to rebuild a life together when he was released in a year. It was not to be though! After a few months, they moved away, plans for divorce were being made and mum was planning to re-marry. Lucy's struggle, like so many young people I have met over the years, was to go on. "Lord, how can we reach them?"
We are confronted with statistics today telling us that every week 3,000 children experience the pain of divorce. 200,000 mothers never see their children. 700,000 children will never see their fathers. Worse is yet to come. People are co-habiting more. Marrying less and much later. Breaking up faster and more often. No-one seems to be clear anymore what 'family' really means.
And the results are that we hear, and see, a growing hearts cry from young people which asks "Who will love me? Who will give my life purpose? Where can I find peace?".
Jesus gave His disciples this challenge from John 13: 34 "A new command I give you: Love one another. As I have loved you, so you must love one another. By this all men will know that you are my disciples, if you love one another". But this kind of love wasn't to be reserved just for other disciples. He had previously told them that the second greatest command of all was to love their neighbour as themselves. Infact, even enemies had to be loved and prayed for.
The world is changing fast and it is vitally important for us to be relevant to today. We need to offer great programmes for outreach and discipleship, fantastic training, exciting service opportunities etc. etc. All of these things are crucial.
Yet, I'm sure God would remind us that our greatest calling is to love people as He loves them. It's this kind of love that will lead them to Him. Relevance without relationship is useless. Relationship with relevance changes lives.
My prayer today, is that as we consider together the future vision for the church, God will also give each of us, a personal vision of how we need to demonstrate God's love to the people that He has privileged us to care for.
I can't put it better than the apostle Paul in 1 Corinthians 13: 1 - it is "the most excellent way".

The opinions expressed in this article are not necessarily those held by Cross Rhythms. Any expressed views were accurate at the time of publishing but may or may not reflect the views of the individuals concerned at a later date.
Sign up now to receive weekly Life Files, direct to your inbox.
We welcome your opinions but libellous and abusive comments are not allowed.