Ephesians 5: 19-20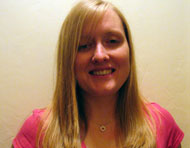 Teresa Phillips
I have just been on holiday to North Wales, exploring and enjoying the landscapes there. 'North Wales?' some friends said, when I told them my destination, wrinkling their noses. Breathtaking views, the endless green hills, the bluest of seas and miles of sandy beaches.. unspoilt villages and beauty spots. it was amazing! Floating on my back in the sea that was as clear as crystal, I marvelled at the sky. That was on one of the many sunny days. On the rainy days, the area was still beautiful. There was a lot to be thankful to God for.
I guess it's easy to be thankful to God on holiday. But what about when you come home? What about when you're back in the 9-5, the place where you live that seems endlessly grey? What about the times when nothing is going right, nothing at all?
Ever feel like you haven't got anything to be thankful for?
Look around you. Think hard. Is there really nothing to be thankful for?
Have you had breakfast this morning? Have you got a bed to sleep in? Have you seen any of your family in the past 6 months? Were you born in a proper hospital? Have you had any education? What is good and special about the place where you live?
Ok. So that's probably sorted most of you out, yes? No!? Maybe you really have got nothing to be thankful for. Maybe you've been hurt, been abused in some way, maybe circumstances have worked out in the wrong way for you. Maybe you aren't happy at all right now. Why should you be thankful to God, why?
He stretched out His arms, and died, that's why.
Whatever happens in life, that fact will always remain, and you will always have one thing to be thankful for, one thing that is actually a lot bigger than all the other things.
I've just got one Bible reference for you, because I think it says it all...
'sing and make music in your heart to the Lord, always giving thanks to God the Father for everything, in the name of our Lord Jesus Christ' (Ephesians 5: 19-20).
The people of Boscastle, Cornwall, last week, were devastated by the flash floods that swept through their beautiful old village, destroying all in its path. As I watched the horrific scenes on TV, I could not believe what I was seeing. What have the people of Boscastle got to be thankful for? I'll tell you what. Despite the strength of the water that pulled houses down and washed cars away, not one person was killed. The emergency teams did a tremendous job of rescuing young and old, and not one was killed.
You've always got something to be thankful for. So be thankful.

The opinions expressed in this article are not necessarily those held by Cross Rhythms. Any expressed views were accurate at the time of publishing but may or may not reflect the views of the individuals concerned at a later date.
Sign up now to receive weekly Life Files, direct to your inbox.
We welcome your opinions but libellous and abusive comments are not allowed.