Romans 3-6 and 12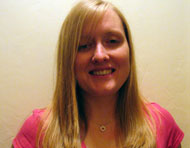 Teresa Phillips
So Christmas has gone; have you written your 'thank you' cards?
Sometimes I have a hard time accepting that God wants to give me fun, exciting, and pleasurable things. I think it's easy to believe the deceptive idea that living life as a Christian means a sacrifice of all such things. Daft games and the best chocolates; lingering kisses and cuddles with the one you love; ingenious Christmas presents; pizza and DVD's that go on long past bedtime; hot buttered toast and cups of tea; holidays by the sea.
We can fall for the idea that we should live a simplistic, morose existence that is devoid of fun. Of course, there are times when God asks us to put some of these things aside for a while, and He doesn't want us to become obsessed by them, but recently, I've come to realise that these things are of God; that He created them and that they are an expression of Himself.
As you read, think. What wonderful things has God given to you? Start simply. Think about what you had recently for Christmas, what you are wearing today and what you had for breakfast. Think about your favourite food and your favourite, most beautiful place in the world. Think about your house, and all the things in it. Think about your friends, and your family. Think about your body and all the injuries and illnesses you don't have.
Think about what Jesus offered to the world when He came as a baby. He brought joy, love, peace and hope.
Think about the offer to you of grace. Of God's willingness to forgive all the things you get wrong, and the offer of eternal, unconditional friendship and love, that came about by a Saviour called Jesus who died on a cross.
With all this in mind, I want to focus your thoughts on how to receive gifts from a loving God. In His book, Rumours from Another World; What are We Missing?, Philip Yancey says this:
'Somehow I had fallen for the deception of judging the natural world as unspiritual and God as anti-pleasure. I discovered in St. Augustine...a guide to the goodness of created things. "The world is a smiling place," he insisted, and God is largitor, or lavisher of gifts. He likened these gifts to a wedding ring, fashioned by a fiancé for his betrothed. What bride would decide, "the ring is enough. I need not see his face again"? No, the ring, a token from the groom, underscores the real message, his pleasure of love.'
In his letter to the Romans (chapters 3-5), Paul outlines the wonder of God's biggest gift; grace through Jesus. He talks about how we cannot earn God's love by being 'good,' but can only receive it as a gift! He then goes on, in the opening lines of chapter 6, to say this;
'What shall we say then? Shall we go on sinning, so that grace may increase? By no means!'
It is our challenge to be like the bride that looks at the beautiful ring on her finger and sees the expression of the one who loves her most, and to embrace him. She will spend her new life with him, walk through life with him day by day. Later on in his letter to the Romans, Paul says this:
'Therefore, I urge you, brothers, in view of God's mercy, to offer your bodies as living sacrifices, holy and pleasing to God - this is your spiritual act of worship.' (chapter 12: 1)
It has been easy this Christmas to send a 'thank you' card to loved ones for the gifts they gave to me, and continue in relationship with them. Sometimes it seems difficult to do the same with God. We need to trust Him. If you offer yourself to Him, He knows best what to do with your life.
Let me encourage you to measure yourself up to Romans 12:1. I personally will endeavour to accept my gifts from God, then, as an act of love to Him, ask myself, is what I do pleasing to God? Is my whole life like an act of worship? Are the words I am saying, the thoughts I am thinking, the things I am doing, holy? For surely this is a small 'thank you' for so many wonderful and fantastic gifts He has blessed me with.

The opinions expressed in this article are not necessarily those held by Cross Rhythms. Any expressed views were accurate at the time of publishing but may or may not reflect the views of the individuals concerned at a later date.
Sign up now to receive weekly Life Files, direct to your inbox.
We welcome your opinions but libellous and abusive comments are not allowed.