Galatians 6:9, 1 Thessalonians 5: 16-18, 1 Corinthians 13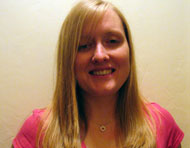 Teresa Phillips
I am currently in the process of re-building my fitness after giving birth to my second child. I am gradually increasing the distance I swim in each session. At the moment I swim 64 lengths, and I find it a challenge at times. Anyone who exercises will know that there are moments in your session where you have to force yourself to persevere.
As I was swimming up and down the pool the other day, I found myself pondering over a Bible verse that I have come across a few times recently. It is from Galatians 6:9 and it says, 'Let us not become weary in doing good, for at the proper time we will reap a harvest if we do not give up.'
As I swim, I count the lengths.
1, 2, 3...
Sometimes I find the opening lengths the most challenging, particularly if I'm tired to start with. The task ahead seems too great.
8, 9, 10...
I use self-talk, like I suppose many people do, to encourage my muscles to work. 'Don't give up, don't give up...'
I started to think about the things in life that require such perseverance. In what area of your life do you need a firm attitude of perseverance in the face of despair?
15, 16, 17...
Perhaps you are praying for someone you love, for them to know God like you do. You've been praying for ages, but they seem as far away as ever. In the Bible Paul says, '...pray continually, give thanks in all circumstances; for this is God's will for you in Christ Jesus' (1 Thessalonians 5: 16-18). Don't give up on them! Pray right now. It might be the last prayer you need to utter before they commit themselves to God!
20, 21, 22...
Perhaps you feel like giving up on your marriage. You feel as though there is no hope; that you've drifted too far apart or that you're the only one who's trying anymore. 1 Corinthians 13 says, 'love.....always hopes, always perseveres.' God has not given up on your marriage. He wants it to succeed. Ask Him for His help and strength.
34, 35, 36....
Perhaps you feel like giving in at work. It's miserable there and morale is low. Nobody wants to work hard and it's easy to join in with gossip and dirty jokes. Don't give up on imitating Jesus. Allow the others to see Him in you without you even needing to say much.
47, 48, 49...
Perhaps, for some reason, you've given up hope. You had hope in God at one time, but something has caused you to lose it. You've tried to live life in your own strength, but have found that's not enough. God wants you to return to hoping in Him to bring about what He promised for you. Don't give up on God.
52, 53, 54...
Another swimmer zooms past me! Annoying! Looks like they're really athletic. They're much better than me.
Don't compare yourself to others; to how they're doing in life and whether or not they're struggling or not. Don't presume to know what other people are going through.
58, 59, 60...
The wall. I've hit it. I just can't go any further. Too tired. I've been doing this for so long. Why bother to push on? I could just give up now....It might be the last hurdle, but this is just too hard...
No. Must. Keep. Going. Don't. Give. Up.
64.
Done it.
You can make it. Swim another length, then another, then another.....
God has given you a promise. Whether your own situation has been mentioned here or not, if you're doing what God says is good, don't give up.
The promise is there.
You will reap.

The opinions expressed in this article are not necessarily those held by Cross Rhythms. Any expressed views were accurate at the time of publishing but may or may not reflect the views of the individuals concerned at a later date.
Sign up now to receive weekly Life Files, direct to your inbox.
We welcome your opinions but libellous and abusive comments are not allowed.