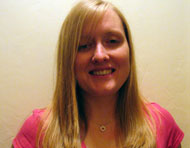 Teresa Phillips
Love is patient, love is kind. It does not envy, it does not boast, it is not proud. It is not rude, it is not self-seeking, it is not easily angered, it keeps no record of wrongs. Love does not delight in evil but rejoices with the truth. It always protects, always trusts, always hopes, always perseveres. Love never fails.
1 Corinthians 13: 4-8
Last week I attended a friend's wedding. It was a beautiful day. The church service was lovely and the bridal party looked fantastic. But perhaps the best part for me was when the bridegroom's sister read this famous passage of scripture beautifully. It is a popular choice at weddings, and I have heard it many times before. However, the words never lose their significance. For me, they sum up the way that Christians should live out their faith.
Recently I looked at this scripture and measured myself up to it. Am I always patient? Am I kind? Do I sometimes fail to share my things with others; things that belong to me, that I have paid for? Do I envy others? I went on, through the list. Previously, I considered myself generally to be a loving person. Now I have some challenges to face, some things to reconsider.
This scripture applies to the love we have for God, and also the love we have for others. Someone once asked Jesus what the greatest commandments were. He replied, 'Love the Lord your God with all your heart and with all your soul and with all your mind. This is the first and greatest commandment. And the second is like it: Love your neighbour as yourself. All the Law and the Prophets hang on these two commandments.' (Matthew 22: 37-40) So then, we can surmise that our faith is about applying 1 Corinthians 13 to our lives and aiming to reach all 15 of the requirements as far as God and other people are concerned.
It's not that easy though!! Especially when people try us, hurt us and annoy us. Some people, we feel, don't deserve our love. Yet would Jesus have thought that? What a challenge. It's easy to take the people that we love for granted.
Last night I went to see War of the Worlds. I have to say that I'm a bit of a wimp and didn't enjoy some of the scenes, in particular, the bit where the alien machine thing sucks blood out of humans and sprays it all over the fields and trees. However, this film showed something very interesting. Tom Cruise plays the character of divorcee Ray Ferrier, and at the beginning of the film he is shown reluctantly looking after his children for a few days. He doesn't appear to have much time for them. As the story unfolds, however, Ray soon begins to realise that there is a slim chance of survival for anybody due to the attack on Earth from space. Suddenly, in the face of death, he realises what is important to him, and he goes to extreme lengths to save and protect his son and daughter. It took an attack on Earth to get him to show his love.
So the challenge is this: are we prepared to constantly aim towards showing the kind of love we see in 1 Corinthians on an everyday basis when things are cold and tough, and to the most difficult of people? Are we prepared to love and obey God? I challenge you, as I will challenge myself, to read 1 Corinthians 13 again, and ask God to give you the strength to love in these ways.

The opinions expressed in this article are not necessarily those held by Cross Rhythms. Any expressed views were accurate at the time of publishing but may or may not reflect the views of the individuals concerned at a later date.
Sign up now to receive weekly Life Files, direct to your inbox.
Reader Comments
We welcome your opinions but libellous and abusive comments are not allowed.