James 1:2-4, Isaiah 43:18-19, 1 Thessalonians 5:16-18, Hebrews 12:6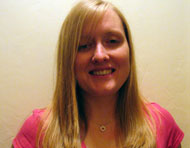 Teresa Phillips
'No more! Please no more! How much further have I got to go!? I want this to end, and I want it to end NOW!' shouted the bodybuilder to his personal trainer, who piled even more kilograms onto the machine.
Five months ago I wrote an article for Cross Rhythms called 'Today'. That was part one. In it, I referred to the term 'destination addiction', and wrote about how many of us live our lives for tomorrow, wishing time away, instead of living for today. I also spoke briefly about how some of us spend all of today worrying about tomorrow. If you want, it might be worth you looking at it before you read this one.
I am still learning a lot about 'destination addiction', and in this article I'm going to look in more detail at how to handle difficult times. Whether we face bereavement, long term illness, family and home problems, depression or relationship issues, I think most of us in those times long for it to be over. That's only natural. Who would want to face difficulties for long periods of time?
There's one thing to be sure of in these times, and that is that God is with us, and He has a lot to say about it all. Here is just one thing from the Bible from James 1:2-4:
'Consider it pure joy, my brothers, whenever you face trials of many kinds, because you know the testing of your faith develops perseverance. Perseverance must finish its work so that you may be mature and complete, not lacking anything.'
The thing is, that whilst we're longing for it to be over, we're missing the point. God is there and He knows what He's doing. That doesn't mean to say that God wants suffering; but in all suffering there is an opportunity to grow. God will bring you through when you are ready. The work must be finished, not rushed. His timing is always perfect. Whatever God's plan is for you through this situation, God wants to take you to a new depth of relationship with Him. He doesn't want you to go back to where you were before, but to a new place. Isaiah 43:18-19 says:
'Forget the former things; do not dwell on the past. See, I am doing a new thing!'
In addition to all of this, God knows that if we look at the longevity of the situation that we're in and worry that it's never going to get better, then it will get us down and overwhelm us. We need to live for today and be patient.
You might ask, 'But how do I live day to day?' 'I don't know how to deal with this whilst it's happening.'
Here are some tips according to 1 Thessalonians 5:16-18:
1) Be joyful (no, I'm not kidding. Choose to be joyful. If you think hard enough you'll begin to come up with lots of things to be joyful about. You are redeemed forever. Start with that).

2) Pray constantly. Develop a prayer life that is two-way and continuous throughout your day.
3) Give thanks. Worship Him. He deserves it, whatever our situation.
God is with you. Don't forget it. He hasn't abandoned you, forgotten about you or left you in a state by accident. He will deliver you, restore you and uplift you at the right time. Think of a body builder. If he finishes his training programme half way through, he won't be ready for competition and all that is to be achieved. You belong to God. The Lord disciplines those He loves (Hebrews 12:6). If He didn't love you and want to bless you and didn't want you to grow, He wouldn't bother. Trust Him to get His timing right, and live today, for today.

The opinions expressed in this article are not necessarily those held by Cross Rhythms. Any expressed views were accurate at the time of publishing but may or may not reflect the views of the individuals concerned at a later date.
Sign up now to receive weekly Life Files, direct to your inbox.
We welcome your opinions but libellous and abusive comments are not allowed.