Friday 25th September 2009
Exodus 17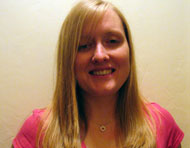 Teresa Phillips
I remember, when I was a kid in the late 80s, watching The Lion, the Witch and the Wardrobe on a Sunday evening. I wanted to be one of the 4 children, and I was always wishing I had a wardrobe that opened out onto a snowy wood. I loved Aslan. My Dad said he was like Jesus, and so I longed to snuggle into his furry, warm protectiveness, even though he was strong and fierce. When he had victory over the witch, it was like this surge of pride and joy rushing up inside, saying, 'Yessss! Come on!' Edmund always annoyed me though. He couldn't bring himself to stay on Aslan's side, but had to wander off and do his own thing.
I started to think about this story recently, when my very wise pastor talked about the event that is recorded in Exodus 17. I want to draw your attention to this event and add a few thoughts of my own.
This is the account of how the Israelites, God's 'chosen people', are travelling after God has rescued them from Egypt. A whole nation of people were in exile and in search of the land God had promised them; somewhere they could put down roots and settle their communities. They had been travelling through a dry and barren place, and had camped out at Rephidim, when a terrifying challenge came their way. An army came to attack - the Amalekites. However, their leader, Moses, trusted in God. He ordered that some men be gathered together to fight and went to stand on the top of the hill. Throughout the battle, his army had the victory for as long as his arms were raised. God helped them to defeat the Amalekites, and when they had the final victory, Moses declared that 'The Lord is my Banner.' He had stood up and declared that God was on their side; that the banner they would carry into battle would be God's.
This message really encouraged me. Whether your battle is with illness, relationship problems, thoughts you want to be rid of, depression, problems at home, fear... you can be sure of one thing - you carry the Lord's banner with you. He will wage war on your behalf. The Bible is packed full of God's promises to you - promises that He will be with you. I could refer to loads, like Joshua 1:9.. 'Be strong and courageous. Do not be terrified; do not be discouraged, for the Lord your God will be with you wherever you go.' If you want more encouragement, see Isaiah 40:28-31, Isaiah 43:2, Isaiah 59:19, Psalm 56:3-4 and Lamentations 3: 21-24.
I then started to think a bit more about being in God's army. It is all well and good declaring that the Lord is your banner and that He is on your side, but there is another aspect. If you are going to declare that God is on your side, you need to be on His. You can't have one foot in His camp and one foot in the enemy's. (There's no middle ground by the way). You need to be fully surrendered to God, the captain of the army, if you like. You need to be on God's side, standing for all that His army stands for, coming under His guidance. With an army leader like God, who always has the best strategies, and who will always have the victory - who wouldn't want to be on His side!? But to be on His side and say with courage and conviction, 'the Lord is my banner', you need to be sure that you're on His side, 100%. Edmund wasn't convinced he really wanted to find Aslan. He didn't sign up to the same ideals as his brother and sisters. He was drawn away by the opposition, and ended up in a mess. He couldn't say that he was with Aslan's army, because in the beginning he didn't know if he was.
Notice also the detail in verse 11 and 12... As long as Moses held up his hands, the Israelites were winning, but whenever he lowered his hands, the Amalekites were winning. When Moses' hands grew tired, they took a stone and put it under him and he sat on it. Aaron and Hur held his hands up - one on one side, one on the other - so that his hands remained steady till sunset (NIV). Moses was a strong person, a man whose eyes were on God, a visionary, a leader. He knew what he had to do and did it. He knew the Lord was his banner and was waging war on behalf of his people. But as he inevitably grew tired, it became more difficult to keep his arms up - but his friends were there to stand with him and help him. Are you struggling today? Choose your friends wisely. Choose ones who will pray with and for you, and who will genuinely encourage you to walk closely with God, in His army.
I don't know about you, but I want to be in God's army. I want to be in the side that has the victory and smashes life's enemies - be they illness, loneliness, fear, sin, grief or whatever - to smithereens because God wages war on my behalf. This is available to you - if you're on God's side.

The opinions expressed in this article are not necessarily those held by Cross Rhythms. Any expressed views were accurate at the time of publishing but may or may not reflect the views of the individuals concerned at a later date.
Sign up now to receive weekly Life Files, direct to your inbox.
Reader Comments
We welcome your opinions but libellous and abusive comments are not allowed.