ADRIAN SNELL doesn't make albums, he catches visions. Jonathan Bellamy investigated.
Phil Thomson (left) and Adrian Snell
"Say that you love me the way that I am," a girl cries to her rag doll. The ragdoll's reply echoes right from God's heart: "I have given you life without question, love with no blame."
This is the poignant hidden message encapsulated by the new Adrian Snell concept work 'Beautiful...Or What?' Whilst most of us are fortunate enough not to have a mental handicap, none of us are without a handicap of some sort, and if we will cease to hide it or live in a fantasy to avoid it but will embrace and come to terms with our hurts, then we are able to receive fully the whole, complete, perfect love of God. That Cool Dude who really does love us "just as we are".
As Adrian himself related to a packed and panting mob of journos at Evangelical Alliance's headquarters in London, "As Christians we all believe that we are made in the image of God, and however broken that image may be, it makes not one iota of difference to the value we have to the Creator!"
To call 'Beautiful...Or What?!' simply an album would be unforgivable, probably blind, and something akin to steak au poivre in a candlelit restaurant being just another Big Mac! It is an adventurous, highly expansive project requiring several full listens to grasp its complexity.
Central to the story is the relationship between a mentally handicapped girl and her much-loved ragdoll. As Phil Thomson, the gifted lyricist who has worked with Adrian for 18 years, explained, "The work is based on a very straightforward domestic situation. It is not so much a plot but a series of experiences; the alienation that takes place from the media; the domestic involvement of her brother; the mother's dreams of wholeness and what might have been." Indeed, the whole album contrasts wishful dream sequences with the deafening truth of reality. Reappearing throughout the story, the Butterfly alludes to freedom. "To be free from the restrictions of the chrysalis," said Phil.
'Beautiful...Or What?!' does not contain solely Adrian's emotive voice. A number of guest vocalists have been assigned parts in this rock-opera style concept recording. As individual tracks words like dramatic, vulnerable and vibrant exchange hands with successful regularity. Each character in the story is played by a different singer; Caroline Bonnett is stunningly powerful as the Girl; Mai Pope is the Brother and Annie McCaig is the Mother.
The power of opera singer Jonathan Veira's voice as the Father on "Kiss The Child Goodbye" is resonant, whilst Neil Costello's condemning guitar on "You Never Seem To Learn" echoes perfectly the frustration felt by a teacher unable to handle a girl with learning difficulties.
But the most spiritually arresting tracks by far are the ballads. Following the exceptionally well-received first playback of the album Adrian plunged headlong into conversation and was in complete agreement. "It is always a danger to single out tracks at this early stage, but for me probably the central work on the album is the ballad "Beautiful". In terms of the songs which most convey the central relationship in the album, that relationship between a girl and her ragdoll and her struggles and his struggles, and yet the way they share in each other's lives, that is the song that I think carries the heart of the whole album most of all."
One of the most original tracks on 'Beautiful...Or What?!' combines the haunting vocals of the Bath Abbey Boys Choir with the medical term for a mental handicap, Homocystinuria Aria. As far as "interesting" lyrics go, this takes the biscuit: "Cystathionine synthetase, Cystathionine synthetase/Is an enzyme in the pathway/Converting methionine/To cystine, cystine/Cystathionine synthetase..." etc.
I asked Adrian how those nine and 10 year old boys coped, as my tongue tripped up with Homosta, Homosit, Homo-oh-l-don't know! Adrian laughed, "Exactly! Homocystinuria Aria, at least I can say it! Well, that was a very unusual experience. Basically the choir took an afternoon and many takes, and then we built up these sounds around it to try and work with the acappella purity of their voices against a very disturbing combination of sounds."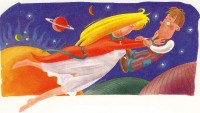 The effect is riveting. In fact on several tracks of the album the production values and musical styles are reminiscent of Pink Floyd; background murmurs, conversations, dramatic changes in style; all those interesting fluctuations that grab your mind. But! Where is it going? What is its purpose? Why do an album about a mentally handicapped girl anyway?
"The source of this album was a request, a commission by the organisation A Cause For Concern to help them create a greater awareness of mental handicaps through the vast potential of the world of arts," said Adrian. "Plus the point we are trying make is 'who can dare to define what is normal and which one of us isn't handicapped in some way'. These may be in the very depths of our being; thought processes, dark secrets. None of us has reached our own definition of what is normal, let alone God's!"
As it states in the album's inlay card and lavish packaging, "A nation's progress can be measured by the dignity it affords the most vulnerable and most dependent members of its society." Adrian readily agreed with this quote and pointed out that he is, "deeply disturbed about what is developing in our society in terms of how we deal with those that don't quite fit, who drain resources, who don't look right or sound right, or who express views that are not quite establishment views." Perhaps we should all hear this, and assess our own reactions, attitudes, hates and humour, and reveal in truth our hidden prejudices.
One million people in Britain have a mental handicap. David Potter, the director of A Cause For Concern, stated that his objective in commissioning this monumental work is to change the way people think and FEEL about the mentally handicapped. "This is not Christian propaganda," claimed David emphatically. "We want to reach far beyond the confines of the Christian boundary."

We welcome your opinions but libellous and abusive comments are not allowed.