Wednesday 17th February 2010
Tony Cummings quizzed CATHY BURTON about her change of direction as a recording artist.
Cathy Burton
Ever since Cathy Burton first emerged on the scene in 1998 as lead singer of Blueberry this most effecting of singers has been building a loyal support base. As a powerful performer of intimate, reflective songs based on her personal experience, albums like 'Burn Out' (2001), 'Speed Your Love' (2004) and 'Silvertown' (2006) have brought her critical acclaim and no small audience response at events like Greenbelt and Spring Harvest. Her work in the mainstream with fellow singer/songwriters Amy Wadge and Edwina Hayes, in the group Hummingbird, likewise gained her rave reviews. And Cathy's contributions as a session singer have enlivened many a worship album. Now Cathy seems set to become a major Christian retail seller with the release by Survivor Records on 22nd February of the first full worship album bearing the singer/songwriter's name.
'Source Of Every Hour' was produced by her husband Paul, renowned for his work with Spring Harvest, Vicky Beeching, Onehundredhours and numerous others. Said Cathy, "As well as Paul, Dan Wheeler worked on the album with some initial input from Julian Kindred, so it was a team effort. It can be tricky working that closely with your husband, but at the end of the day, we're a team and we've learnt to work more and more smoothly over the years. We've also learnt not to do vocals together when it comes to my albums which is why the brilliant Chris Eaton came down and saw me through the singing!"
So what lead Cathy to finally record a worship album of her own? "It was a series of events really. I think the catalyst and the real nudge came when I attended Graham Kendrick's Songwriters Consultation in November 2007. I felt a real challenge in one of the seminars that perhaps the reason that I hadn't really applied myself to writing for Sunday morning church was because I was scared of not writing anything good enough, you could say a bit of pride issue! So I came away a broken woman. Geraldine Latty was an amazing inspiration. I met with her a couple of times to write and got in the swing of things. Alongside that happening, I've been at Grace Church, Chichester since January 2006 and felt really inspired about what church actually is! It was a church plant at the time and Paul and I got stuck in. It was an amazing time of growth and new things. I lead worship and help lead the worship team alongside the lovely Jo Petch and my husband Paul. We meet with about 25 musicians and PA team every Tuesday to develop musicianship, learn new songs, write new songs, worship together and pray. It's a real privilege and I love it. Having young children I also meet up with church mums in the week and we do life together!"
Cathy spoke about her song "Redeemer". "I wrote 'Redeemer' in my living room. I can remember just how I felt at the time. I was either sat staring out of the window having just got my baby to sleep or staring at the baby, wishing he would go to sleep. In the early stages of motherhood and parenthood, you learn quickly that time is no longer your own. 'Redeemer' was a song that came out of reflecting on a few Scriptures. At the time I felt pretty up and down, mainly down. After my first baby, I was borderline on postnatal depression. I wasn't at the stage that some women have to cope with, but nevertheless, it was a mind battle, dealing with all sorts of crazy and disturbing thoughts. I felt my thoughts were going the same way in the weeks leading up to writing 'Redeemer'."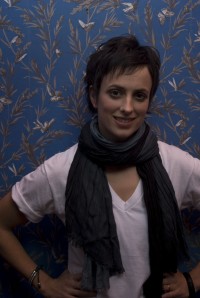 Cathy continued, "I'd been looking in my Bible at a few verses and found the 1 Peter 5:6-11 bit about just casting our anxiety on him because he cares for us. I ended up looking at the cross references, which took me to Psalm 40, 86 and 109. It took me on a real journey and I just prayed out the song really - first verse, into the chorus. Of course like with most songs, I then crafted it, but that was its small beginning. In the knowledge that we can be in a mess, either emotionally, mentally, physically or spiritually, yet if we have humility, without pride or anger, we can, from that place, see that God is for us. He is all the things and more that the chorus declares him to be. Redeemer, healer, Savior, God, defender, the source of every hour, the reason for being here."
Another standout track on 'Source Of Every Hour' is "Refuge". Cathy spoke about he trauma behind that particular song. "In the middle of last year I had a miscarriage. It was such a surprise as I'd had two previous ones between my daughter and son, so I thought it probably wouldn't happen again. But it did! At the time I knew deep down that the baby had died and the doctors were great and agreed to give me a scan at nine weeks and the baby had actually died at five weeks. I then had the journey of waiting for nature to take its course. Unfortunately this took a few weeks. Physically and emotionally it was a real battle, but in that trite way that we seem to say it, God was there. At the time I used to cycle my daughter to nursery on my bike and the kiddies were in the bike trailer and I was asking God how was I going to get through another day with nothing happening with the physical miscarriage - all the waiting was driving me nuts. I just felt my heart say. 'I'm going to walk with Father God,' and so I just sang it out on the way home: 'I will walk with you!'
"I remember having a little bit of time on my own shortly afterwards and felt like I didn't really know what to say to God. As I just sat there, the whole 'be still and know that I am God' song and Scripture came to mind. So I looked it up - it's Psalm 46. What struck me is that after the line 'Be still and know that I am God" it then says, 'I will be exalted among the nations, I will be exalted on the earth.' It was a real revelation to me in that as we still ourselves and calm ourselves with whatever is coming our way we can know he is God and he is in fact exalted - high, elevated, bigger than all of it! Yet he is still our refuge and our strength. Verse seven, ' The Lord Almighty is with us; the God of Jacob is our fortress.' I can really testify to that from my journey last year. It's an amazing Psalm in times of struggle."
Did Cathy approach the recording of her worship album any differently to the way she handled the recordings of her other projects? She responded, "I think I let the boys get on with the production, I spent a lot of time on the songs and I felt like that was my contribution to the project. I didn't really know how to approach it and being the insecure type I can be sometimes with all the music, I thought I'd let them get on with it, because I can rarely tell if I've written the song well enough. Paul is great at helping me see that, especially when I think I've done it and I'm nowhere near! As a whole though we approached the sound in a way that we felt although it's a different genre to my previous work, it still needed to sound like a 'Cathy Burton' album. I think they've done a great job and when I got the master, I was so pleased, it sounds full and fat, I think it sounds a little different to what is out there."
This year Cathy has been invited to lead worship at Faithworks and Spring Harvest plus she is undertaking the God Stories tour with Andrew Wilson. Beyond that there may well be some major changes in the Burton household. Said Cathy, "Long term Paul and I are trying to work out what we believe God's calling us to, which is serving with MAF. It sounds pretty out there, but Paul is training as a pilot. He is a lesson away from having a PPL (Private Pilot Licence). Then we have to build hours up to 500 before we can start application with MAF. So it's quite big changes afoot, if we've got this right! I feel excited about it, a little scared, but being part of a great church has really challenged our perspective on life as a whole. We're just pushing the doors and seeing what happens, but I intend to keep writing on the journey."

The opinions expressed in this article are not necessarily those held by Cross Rhythms. Any expressed views were accurate at the time of publishing but may or may not reflect the views of the individuals concerned at a later date.
About Tony Cummings

Tony Cummings
is the music editor for Cross Rhythms website and attends Grace Church in Stoke-on-Trent.
Reader Comments
We welcome your opinions but libellous and abusive comments are not allowed.