Tony Cummings quizzed singer, evangelist and one-time member of the Color Me Badd hitmakers, KEVIN THORNTON, about his music and ministry
Kevin Thornton
Kevin Thornton Ministries is an evangelistic ministry "dedicated to spreading the Gospel of Jesus Christ through word (God's word), deed (a Christ-centred lifestyle), song and testimony." The man behind the Texas-based ministry has a powerful testimony indeed. In the '90s Kevin Thornton was a member of the platinum selling R&B group Color Me Badd who had such million-selling hits as 1990's "I Wanna Sex You Up". Kevin drank deep of the poison chalice of fame and fortune. He told Charisma magazine, "I used marijuana and alcohol but my real vice was girls." Thornton fathered three children during his eight years in the band. "Women that looked like models were coming on to me, and I indulged. I was wildly irresponsible." But behind the scenes things weren't good. He discovered that the group's management were embezzling Color Me Badd's earnings. He faced a strained relationship with the mother of one of his children and found himself thinking seriously about killing a man who had savagely beaten his sister. Kevin recalled, "I used to ask God to kill me and take me out of my misery. I felt hopeless."
In his youth before Color Me Badd the singer had attended church and now he began reading his Bible and praying. It was at his mother's home in Oklahoma on 1st June 1997 that he asked Christ to be his Saviour. After dedicating his life to Christ Kevin sought to restore his relationship with his son Dominique and daughter Breyanna and with his girlfriend Tamme, who was pregnant with his third child. The two began attending church together and eventually married.
As a Christian Kevin began to feel convicted about singing Color Me Badd's provocative songs. He said, I prayed to God and said, 'If you want me to leave, let me know.'" Thornton faced a turning point in October 1998. Manager Johnny Wright, who guided to stardom NSYNC, Backstreet Boys and Britney Spears, showed interest in the group. But before Thornton, who had moved to Dallas, was to discuss a management contract with another group member, he visited a Christian nightclub event. It was Halloween and local youth minister G Craige Lewis was preaching on the music industry. Remembered Thornton, "I heard Jesus say, 'Now is the time [to quit].' And I said, 'Not now, God. Things are finally looking up for us.' I heard Jesus say, 'Whatever you give up for me I will increase you double.' At that moment Lewis said, 'The Spirit of the Lord is telling me to tell you to forget about the contract.'"
Although Thornton and his wife had a new home to pay for, he left the group and was soon driving a warehouse forklift. For years he sang little, resisting the urge to launch a Christian music career. He said, "I would have only added a secular mindset to a Christian agenda. I had to learn compassion. I had to learn to rely on the Lord and to do that I had to be stripped of everything."
Color Me Badd
He focussed instead on evangelising his co-workers and preaching and singing in churches. He turned down opportunities to sing secular music and over time he began to doubt God's promise. "I asked God what was going on, why he didn't leave me along where I was?" he said. "But every time I got that way, God would send someone who wanted to hear what I had to say."
Then one day at the church on Rush Creek - the Arlington, Texas, congregation he attended - Thornton met Edward Smith, a successful businessman deeply involved in mission work. Believing in Thornton, Smith introduced him to recording engineer Derek Hoiem, who in 2005 helped Thornton record his first Christian album, 'Conversion'.
When reviewed by Cross Rhythms, Paul Poulton wrote about 'Conversion', "[Kevin's] enthusiasm for his subject carries him across the dividing wall of easy rhymes verses and good poetry and makes me willing to listen to his message. Neat guitar lines, funky programmed parts, a smattering of R&B, gospel and rock."
Standouts on the album were "Oh Mammy" featuring a three year old Mikayla Thornton and "Full Armor Of God" with a powerful lyric from Kevin ("In preparation of what Satan tries to do to me/I'll take the shield of faith/To shut the Devil down/The helmet of salvation will be my crown"). As it turned out, 'Conversion' almost went unnoticed in the conservative gospel market. Cross Rhythms asked Kevin whether he was disappointed that 'Conversion' didn't lead to a fulltime career in gospel music. His response was emphatic. "No. Not at all. I'm not looking for a career in gospel music. I'm looking to make a career of spreading the Gospel of Jesus with the gifts that he has given me. If that results in a Christian recording contract. . . so be it. If not, so what? My life's goal is to help usher millions of souls to Heaven by whatever means God sees fit."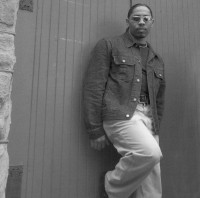 Kevin said all the songs on 'Conversion' were special to him though one in particular, a soulful revival of the Andrae Crouch oldie "My Tribute" is a particular favourite. "'My Tribute' was a hard one to get through during the recording process because the words are such a beautiful love song to the Lord. In addition, the song 'As One' is special because it expresses how I feel about my wife."
Cross Rhythms asked Kevin whether his years with Color Me Badd were difficult to talk about. "Not at all. The only painful memories I have are of some of the poor decisions we made in choosing our business team. Other than the fact that they ripped us off pretty good, Color Me Badd has given me a voice. Because of my past people are interested in listening to me. Now what I have to say has eternal benefits."
The years that Color Me Badd were together certainly left a mark in recording history. Discovered by Kool & The Gang's Robert Bell in 1990, Color Me Badd's debut single "I Wanna Sex You Up" made number two in the States and number one in the UK. The pop/R&B/hip-hop group were described as a "post New Kids On The Block with a street-dance image." The group's debut album 'C.M.B.' went triple platinum while the group had smash hit singles in the US like "I Adore Mi Amore" (1990), "All 4 Love", "Thinkin' Back" and "Slow Motion" (1991) and "Forever Love", "Time And Chance" and "Choose" (1993). But by the time "Sexual Capacity" was released in 1996 the band were beginning to run out of steam. Cross Rhythms asked Kevin if he was embarrassed when he hears "I Wanna Sex You Up" on the radio . The singer/evangelist responded, "No. It honestly brings back fond memories. That was our first song, our first big hit! We were close friends back then and had the opportunity of watching each other's dreams come true. Besides, compared to what's out there today, 'I Wanna Sex You Up' seems like a nursery rhyme."
Kevin was asked if he saw any of his one-time CMB group members - Bryan Abrams (lead singer), Sam Walters (today a successful record producer hitting with Jessica Simpson, Fantasia and Natasha Bedingfield) and Mark Calderon - today. Said Kevin, "I don't see them that often, although I do speak to them periodically. Initially a few of them had issues with my abrupt departure from the group because we were about to sign a lucrative deal. But now they realise that I am truly a man of God, earnestly seeking his face."
In August 2006 Kevin became a licenced minister. "I love to preach more than I love to sing," he admitted. "Singing is the dessert, but the Word of God is the main course." Not that music has been completely forgotten. Kevin is now hard at work on his second solo album. Today Kevin lives in Arlington, Texas with his wife and four children. He remarked, "I have been happily and faithfully married for about 12 years. That is saying a lot because before I got married, I was a dog!"
Away from music and preaching, Kevin has a passion to see deep relationship displayed in the body of Christ. He commented, "True, committed relationship with Christ is paramount, yet it is so often overlooked in the modern Church. We tend to get caught up in 'religiosity' and self-absorption that we forget that we serve a jealous God. Moreover, relationship with one another is key! With so much despair in the world today, people want know that someone genuinely cares about them. They have a desire to feel loved by God, but many of them will never FEEL the love of God until we first express it to them naturally. Oftentimes it only takes a smile, a hug or an attentive ear."

The opinions expressed in this article are not necessarily those held by Cross Rhythms. Any expressed views were accurate at the time of publishing but may or may not reflect the views of the individuals concerned at a later date.
About Tony Cummings

Tony Cummings
is the music editor for Cross Rhythms website and attends Grace Church in Stoke-on-Trent.
Reader Comments
We welcome your opinions but libellous and abusive comments are not allowed.