Tony Cummings interviewed Tennessee-based duo OUT OF THE DUST about their music and ministry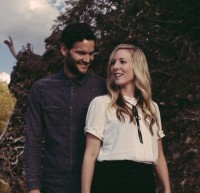 Out Of The Dust
The release of the EP 'Lead Me Through' by Nashville-based duo Out Of The Dust has a back story of downfall and miraculous redemption. The wistful folktronica and catchy synth pop featured on 'Lead Me Through' not only indicate that husband and wife Chris and Stephanie Teague stand out as exceptional talents in the crowded Nashville music scene but the music also reflects the work of a healing God involving marriage, divorce and remarriage.
The Teagues' story began when the couple met on a mission trip to Philadelphia the summer before their senior year in high school. Chris and Stephanie married in 2006. Professional musician Chris is candid about what led to the marriage breakup. "The biggest impetus for our divorce was a perfect storm of my intellectual doubt, destructive habitual drug use, rebellion and unhealthy understanding of love." The divorce was a body blow for Stephanie though her faith remained strong. She said, "God really gave me a peace about letting Chris go after fighting hard for our marriage as long as I could. Obviously it was the hardest thing I ever had to go through, and God used that summer to reveal and strip me of the ugly pride and selfishness that I had unknowingly brought into our marriage. During that time apart I fell in love with singing and playing guitar, and I also was able to go to Nigeria on a mission trip where God broke my heart for the orphans we served."
Chris' life was reaching rock bottom. Explained Stephanie, "Chris will be the first to tell you that the decisions he made when we were apart came from a selfish place, and those decisions quickly spiralled out of control and brought him to a place of desperation. God revealed himself to Chris during that time that was undeniable, so from there he sought after me to talk for the first time in months. After a few months of counselling and seeking the Lord for our future, we began dating again and were engaged and remarried in 2011, a little over a year after everything had fallen apart."
Musically the couple found themselves drawn together as well. Explained Chris, "I had been writing and playing guitar since freshman year of high school and though Stephanie and I had led worship together for years, we'd never written or performed together until after our remarriage. That is a specific example of how God used our time apart to grow us. Stephanie, though living near a guitar player for nearly a decade, had never picked it up, but when we were apart she taught herself to play! Her vocal abilities grew immensely during that period as well and allowed her to find her unique voice that now shines through on our records."
Stephanie picked up the story. "In the spring of 2012 we finally decided to try to write together and we were so surprised to find what a fun and seemingly easy process it was for us even though we have such different personalities and writing styles. By the fall we had a handful of songs and played our first show as Out Of The Dust, and we've continued making music and following the Lord's direction with it ever since."
In 2014 Out Of The Dust released their first EP, 'One Mic, One Night'. Said Chris, "As performers, we are in awe of the truly great acts of our generation as well as those who came before who don't need to rely on production and editing to communicate their art masterfully. We are nowhere near their caliber, but we wanted to come out of the gate with something raw and vulnerable that would define who we are and where we are as artists and performers. Flaws and all.
A few of the songs on One Mic, One Night found their way onto our studio album, but we feel the versions stand in stark contrast to one another. A couple that stand out to us are "Illuminate" and "You Pursue." "Illuminate" is the oldest song in our repertoire and is one that I performed solo (as "Topher" Teague) before we were divorced. That song is now close to 7 years old, but it's still one of the staples of our live set. People still seem to respond to it as well which is nice. "You Pursue" is probably the most fun for me to play on the guitar. Being in drop C tuning with lots of slaps and ghost 16ths you really hear the influences of the solo guitarists I love!"
Now the EP 'Lead Me Through' has been released and is already receiving rave reviews. Explained Stephanie, "We had a large chunk of money that we had saved for years for whenever the opportunity came around for us to make a fully produced project. Once we knew it was the right time, we met with our producer Joe Causey and knew we needed help from people who believed in our ministry and the music we were making to be able to finish the project to the level that we desired for these songs. With a little less than half of the money still needed for everything that goes into making and releasing an album, we launched a Kickstarter campaign and were blown away by the generosity of our backers. We were fully funded after about three weeks of the campaign."
Continued Chris, "We were huge fans of our producer Joe Causey's work with Jillian Edwards and Colony House, so it felt like a dream when he responded to our email inquiry the same day. When we first approached Joe, we were pursuing a single song deal with him, but it quickly turned into a full EP and we watched as a lifelong dream came into existence. We recorded in the winter of last year with some amazing players here in Nashville and Joe absolutely nailed our vision and took it further than we could've ever done alone."
One of the outstanding songs on 'Lead Me Through' is "How To Love". Chuckled Chris, "That was the only song we were going to record with Joe Causey originally. We had a music video filmed but due to things outside of our control. we didn't have a recording. This is by far the most important song for our ministry currently and defines what we are about and what we want to do with our music. We want to tell the story of God's redemption of our lives and our marriage. We continue to hear stories about how this song has blessed and challenged people in all stages of marriage... so it's been beautiful to see God take our specific journey and use it more broadly than we envisioned."
One of Stephanie's favourites is "Safe To Shore". She said, "It is inspired by the passage in Matthew chapter eight and again in Mark chapter four about Jesus calming the storm. Nobody goes through life without encountering storms and uncertainty, and this song is a reminder that our fears are quelled when we rest in the peace of Christ."
Chris was asked what hopes and dreams he had for Out Of The Dust. He responded, "If you catch us on a good day. our goal is to ignore what the industry and the world considers successful and simply follow God's path for this ministry. At the same time, we wish to be good stewards of our story and create art that is fully authentic yet relatable so that we can reach as many people as we possibly can."

The opinions expressed in this article are not necessarily those held by Cross Rhythms. Any expressed views were accurate at the time of publishing but may or may not reflect the views of the individuals concerned at a later date.
About Tony Cummings

Tony Cummings
is the music editor for Cross Rhythms website and attends Grace Church in Stoke-on-Trent.
Reader Comments
We welcome your opinions but libellous and abusive comments are not allowed.