Tony Cummings carried out an in-depth interview with drummer Denny Fridkin to uncover the full story of '60s hitmakers PEOPLE!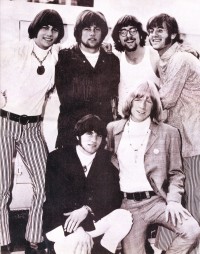 People!
It was in a hotel room in Havant near Portsmouth that I met up with Denny Fridkin, drummer, singer, songwriter and musical associate of Jesus music legend Larry Norman to try, once and for all, to write an adequate musical history of People!, the '60s mainstream rock band who had a Top 20 US hit in 1968 and, as every Larry aficionado will tell you, gave Larry his start in music. I say "adequate" as when at our interview's commencement I produced a photocopy of the entry for People! in the Guinness Encyclopaedia Of Popular Music it becomes clear that the music historians had been less than fastidious in assembling their facts with the compilers misspelling Denny and Fridkin in their People! entry! Denny is a delightful man, warm, intelligent and with a wry sense of humour. For two hours we went through his fascinating musical and spiritual story.
Denny was born on 16th December, 1946. His father was Jewish and his mother nominally Protestant. He grew up in the San Fernando Valley of California and was Bar Mitzvahed in Boyle Heights, a suburb of Los Angeles that today is largely Hispanic but back in the '50s was an enclave for European Jews. Denny's grandparents were from Russia and his father was a well known jazz musician. Explained Denny, "His name was Sydney Fridkin from Russian parents who emigrated to the US sometime before the Depression from Russia. I understand that my great grandfather had a famous Russian dance troupe and I've actually got a post card still that says Boris Fridkin's Famous Troupe of Russian Dancers. My Dad started off playing cornet . He grew up in Chicago, and they had pegged him, at 16, to be the next Bix Biederbeck he was that hot. But his music teacher had taught him incorrectly how to blow high notes and he blew out his armature and popped some muscles and basically couldn't play well any more. So he switched to standup bass and also played tuba. He went into the army and when you go into the army as a musician it turns out to be a blessing as far as not having to be in the infantry. You get to be in the band. Then he went on to play bass for Benny Goodman, Freddy Martin and then was in a quartet called The Barclay Allan Quartet. They had a big hit called 'Cumana'."
Tragedy was to strike Barclay Allen. "Barclay was driving down from Big Bear, Lake Taco, some resort they were playing, and had a horrible car accident and became a quadriplegic. I remember as a kid once a month they would have pot lucks at the different musicians' houses. I remember when we went to Barclay Allan's house he was confined to a hospital bed in his room. I have a memory of that. I don't have a memory of when my Dad was travelling with Benny Goodman and Freddy Martin. They tell me that I was actually there occasionally, sitting on my Dad's lap in the bus. So fast forward to my Dad basically stopped being a professional musician to help, to be a father to my sister and I and then later on my brother - I have a brother who is 10 years younger, which is not quite the difference between Larry and Charles, which is 18 years. My sister was a child prodigy classical pianist but my Dad was a hard task master and forced her to practice five, six hours a day. I remember going to piano lessons with her, tagging along, the little brother 'cos we probably couldn't afford a baby-sitter. When she hit puberty and got interested in boys she wanted to practise piano less and less. One day my Dad came in and she was just sitting there at the piano moping. He said, 'Carol, don't you want to play piano anymore?' And she said, 'No.' My Dad just came over and closed the lid to the piano and she never played another note. In the meantime I'm this jazz aficionado from listening to my Dad's records when they were around. Dad decided to let me play what's called the baritone horn - it looks like a mini tuba and he had me practising whole notes for hours. I wasn't allowed to do anything but develop the perfect tone. And I'm thinking even if I get a grade on this instrument, what am I going to do? So I suggested to him that I'd like to play something else so he said, 'How about bass?' But my hands were so small that that didn't work out."
While Denny was in the 11th grade in High School, his father got offered a job in Ponoma and the Fridkins moved from San Fernando Valley. Denny remembered, "That's tough on a kid to make a big change at that age - I think I was 15. There was a place called Rainbow Gardens that brought in rock and roll acts and my Mom dropped me off and I asked if I could go see Dick and Deedee who had a hit 'No Mountain High And No Valley Low'. There was some warm up band and I'm standing in the back and I hear these guys arguing about what they were going to do because they'd lost their drummer. So I just walked over and said, 'Hey, I play drums.' Of course, I didn't. So they invited me to audition with them two days later. The band was called the Stingrays. They were a surf band and they consisted of no drummer, two guitar players and a saxophone, no bass player. The next day I tell my Dad about it. I had a penny coin collection that I'd basically got from my grandmother's cash register, she owned a small market when I was a kid. So I had the complete coin collection which I was able to sell for $400. In 1963, that's quite a lot of money. I took that and bought a brand new set of black pearl Slingerland drums. The only thing that I still have from that drum kit is the 20 inch ride cymbal that I got at that time. You get attached to your cymbals as a drummer. I don't even remember if I set them up before I went over to the audition. And lo and behold, I could play drums without ever having played drums before! I don't know how to explain it but I was a born drummer. The song that I auditioned with them was 'Pipeline' by the Chantays. So my first professional paying job was out on the front porch of the local YMCA. I've still got a photo of that that my Dad took."
With the USA in the grip of Beatlemania the surf instrumental Stingrays started to do vocals. Remembered Denny, "We changed our name to the Trolls - like the creatures that live under bridges. And they had troll dolls at that time too, little ones, and the band came to be locally quite popular and we'd throw our troll dolls at the audience and stuff... We stayed together maybe a year and a half. We won a Battle Of The Bands and the winner got to make a 45. At that time we still weren't very proficient at doing vocals so it was an instrumental called 'Happy Time' which was a Ventures cover, and for the other side the guitar player in the band was a Chet Atkins fan and so we did a Chet Atkins-style cover of 'To Know Him Is To Love Him' (the Teddy Bears oldie)."
One of the memorable incidents with Denny's time with the Trolls was meeting up with Bob Marcucci; legendary manager and man behind such teen idols as Fabian and Frankie Avalon. Remembered Denny, "When I was 16 we were in the early stages of singing in the band and we were gonna go to the town of Lompoc, in central California, very small town, to do a concert with this singer named John Andrea, who was managed by Mr Marcucci . We sort of had to audition for his manager. So Bob Marcucci comes over to the guitar player's house where we're rehearsing and says, 'Okay, let's hear the band.' So we do the Rolling Stones version of 'Route 66' and I sing it. Well, after we get hired to do the gig and Bob Marcucci comes up to me and tells me who he is and asks would I be interested in being managed by him, that he'd like to groom me to be the next Fabian kind of fellow. You know, I've got this baby face and I wasn't allowed to have long hair yet, at home, so my haircut was sort of like Fabian's, and, I'm like, 'Yeah.' But well, my Mom wouldn't let me, like, 'You've gotta stay and finish school.'"
His chance of becoming a teen idol dashed the young drummer had another intriguing musical adventure. "I was at the Musicians Union Local 47, which at that time was a strong union for musicians and I was just seeing if there were any legitimate paying gigs for, you know, I was a decent drummer. I hear this big band rehearsing in one of the rooms and I slip in to hear them and there's no drummer. I enquire as to what's happening and they say, well they don't know, he hasn't shown up. So I said, 'Do you want me to fill in - till this fellow gets here?' 'Yeah, that'd be great. Do you read?' I didn't know they meant music.
(Laughter) And I said, 'Yes, of course I read.' So, I go up there and there's a music stand with the chart there. I happen to have a really good ear, it's probably my greatest strength, is listening, so I play, and I know all the big band kicks (mimics) and they think I'm reading. So, the drummer never shows up and the musical director - I can't even remember who he was - asks me if I would like to join the band. It turns out this was Sammy Davis Jr's band and they were going to Vegas."
But once more Denny's chance of the music big time was scuppered by his mother. Reluctantly Denny went off to San Jose State. And there in San Jose he was to have his fateful meeting with Larry Norman. Recalled Denny, "I had actually decided not to be involved with music and knuckle down with my studies. But after a few days I started missing playing. I was already taking 15 or 16 units and I decided to add on or get into the jazz band. So, at least I could play a bit. So I asked my Mum if she would send my drums up on a Greyhound bus. So I'm on my way to pick up my drums at the bus station and I get there and they're not there yet. So I walk into this electronics store, not looking for anything in particular, just wasting some time, then I get this tap on the shoulder."
The man doing the tapping was a long haired singer/guitarist called Larry Norman. Denney recalled, "I just remember being so taken by his physical presence and his aura, you know, with that long blonde hair and his loving demeanour. I was a bit stunned but I think he just said, 'Do you play drums?' I said, 'As a matter of fact I do. I was just on my way to get my drums at the Greyhound bus station.' So then Larry asked, 'You want to be in my band?' I was living in a boarding house at the time, going to school. For the audition the guitar player and bass player came over and I set up my drums downstairs in this tiny little lobby. We probably had planned on doing more but I actually played only one song and sang 'Born in Chicago' by the Paul Butterfield Blues Band. And they said, 'OK, you're in.' And two weeks later we're opening for the Dave Clark Five."
The original drummer who Denny replaced in People! was John Riolo.
Explained Denny, "He was too young. They were getting offered these gigs that his parents wouldn't let him go to. So I joined. The guitar player and bass player Jeff and Rob Levin were brothers but I didn't know that Rob was in People! when I got in the band. Nobody bothered telling me that he was out with mono (mononucleosis) and we had a fellow named Pete Grant, who was actually quite a well known bluegrass musician playing bass, before I knew. So it was Jeff Levin on lead guitar, Rob, once he'd recovered from mono, on bass, Albert Ribisi on keyboards, Gene Mason and Larry Norman on lead vocals and me on drums. It was a six piece band. Or a four piece band with two lead singers, which was quite unique. This was pre-Three Dog Night, no one was having more than one lead singer. People! had songs that featured them individually and they had songs that they did together like the Righteous Brothers covers. So we were a band that had two lead singers and Gene was like the R&B guy."
People!, with their astonishingly eclectic stage set which took in everything from covers of James Brown ("Think") to country tunes (the Larry Norman-penned "Hasty Heart") to Franz Liszt and even a rock opera (penned by Denny and Larry). Truly People! were a groundbreaking band. And one with the right connections. Denny explained, "Our manager at that time got the president of Capitol Records Carl Ingleman to come and hear the band. I don't know how he got him to do it. We were playing at a place called the Whatsit Club which was not a night club cos we were too young to even play in night clubs. It was a youth club of some sort where people would gather for live music. And they came and heard us and wanted to sign us immediately. My Dad had to fly up from LA because I was too young to sign a contract. I think later in California the legal age changed to 18 but at that time it was 21. We recorded a song called 'Organ Grinder' for the first single."
People!'s first single didn't sell. But things were to change when Capitol execs came to see the band play again. "They heard us play 'I Love You' which we had gotten because our manager got discs before they were on the air. 'I Love You' (by the Zombies) was released in the UK but never in the United States. So we were playing the song. Capitol suggested we record 'I Love You'."
Released in the winter of '67 the People!'s haunting reading of "I Love You" became a sleeper hit eventually registering at number 14 in the Billboard Hot 100. The 'I Love You' album was released which charted too. According to legend the title of the album was intended to be 'What We Need Is A Lot More Jesus And A Lot Less Rock 'n' Roll', from a song written by one Wayne Rainy. When asked about Mr Rainy Denny could throw no light. "I've no idea who Wayne Rainy is. That was another song that we did on stage. They were already doing it when I got in the band so I don't know the history of it at all."
By the time the 'I Love You' album was released and the band undertook its first major tour of the USA in the summer of 1968 Larry Norman had left People!. I asked Denny why Larry left. "I'm sure you've got many interpretations and you have gotten or will get from the horse's mouth. As I perceived it at the time the whole band had gotten interested in Scientology, sort of culty thing. . . I was into that Ron L Hubbard stuff for a short time, a couple of years. Albert the keyboard player was the first one to get exposed to it and he came to rehearsal one day and was just all excited about it. But Larry was just not at all interested in it of course. The band was not into drugs and maybe we have Scientology to thank for that. We were minor marijuana users, nobody was a drinker or anything. So it was an unusual band in that respect and when we were on tour there was a lot of that [around] and we just kind of stayed pretty much clear of it."
I asked Denny whether Larry's strong Christian faith caused tensions in People!. "Not outwardly at first. But we were playing in Monterey, California with a makeshift stage and during the dragon killing, during the epic where he would use a microphone stand and mimic killing a dragon... The stage had separated from Larry and he fell and damaged his finger. In fact a piece of bone flew off his finger and blood was spurting out all over the place. He finished the song with his finger a bleeding mess. Shortly after that is when he announced that he was leaving the band. My understanding is God told him that he was to be doing something else. Larry said, 'I don't know what that is but I'm following the Lord.'"
Within months Larry began work on his 'Upon This Rock' album which when released by Capitol in 1969 didn't sell too well but inadvertently kick-started the whole of what was to become contemporary Christian music. For People!, with singer Gene Mason still in the band, a single "Apple Cider" was released. Said Denny ruefully, "That record was released after 'I Love You' and was probably a huge mistake because it was so different from 'I Love You'. A bizarre tune really. I can say that because I wrote it."
People! brought in a new singer, John Tristao. But the band's second album 'Both Sides Of People!' failed to chart. In 1969 Capitol Records tried a couple of left field efforts, releasing Larry Norman with pick up musicians as The Flies on the gloriously titled "Blow In My Ear And I'll Follow You Anywhere". Denny Fridkin also released a shot-in-the-dark single, "Capitol released a song called 'Jelly Roll', nothing ever became of it, and it was not a gigging band. But Carl Ingolman had contacted me and we called that band Pressure O'Tool, which was the name of a famous wrestler. I remember they brought in Jimmy Haskel to do horn arrangements for the tune."
People! continued to play gigs but tensions were rising. "At this time things went a bit haywire with the band with Captain Mikey, Mike Hunter and the whole Scientology thing. Our manager was Wally Amos who later became the chocolate chip cookie guy - Famous Amos Cookies. He was working for William Morris and he got us Filmore East, Electric Circus and a spot on the Tonight show with Jonny Carson in '71. So we went to New York. This was my first real exposure to the rock and roll underground. Going into the bathroom at the Rock And Roll Circus and people are shooting up heroin. The local chapter of the Hell's Angels were in charge of the place."
Alienated by the rock'n'roll excess they found at the Filmore East, People! continued on. The band signed with Paramount Records who released the album 'There Are People And There Are People'. But the hits just wouldn't come. Commented Denny, "We were offered the song 'Don't Leave Your Boogie Woogie For Rock'n'Roll' but we passed on that one. It ended up being a hit for Long John Baldry. Then we recorded 'One Chain Don't Make No Prison' but it was the Four tops who hit with that. We released some material that didn't catch on. One song from the album called 'Sunshine Lady', if you listened to it you'd say, 'How could that not be a radio song, it's that formula.' So there seemed to be some non-destiny for this band. I had gotten disenchanted with Scientology and left the band. They stayed as People! for awhile then that incarnation of the band which was now the original bass player Rob Levin so he changed the name of the band to Rocking Horse."
With Daniel Dick as their lead singer Rocking Horse had a minor hit and undertook a tour of Japan. Rocking Horse petered out and Rob Levin went on to be the bass player for Rick Springfield But it wasn't in music that Rob was to make his fortune. Explained Denny, "Along the way Rob got interested in silk screen and started making silk screen t shirts in his garage. He ended up a multi millionaire in the women's clothing business. His brother, Geoff Levin, writes musical scores and is doing quite well, he has his own recording studio. The keyboard player Albert has been out of music for years. Larry and I are actively attempting to do a 40 year People! Reunion album and we've told Albert to start getting his chops back. His son is a fairly famous actor Giovanni Ribisi And Gene is still quite active in the bluegrass scene himself."
Denny had married Lyn in 1968 and the couple had a son and daughter.
Denny auditioned for a band, Game, who had relocated to LA from Florida and whose guitarist, Terry was to end up playing with Eric Clapton. Said Denny, "The guitar player in that band - the other guitar player, Chuck Kirkpatrick is still a fairly well known engineer in Florida and he'd recorded many artists, including James Brown. I was playing four, five or six sets a night. It was work, often driving 60 miles across LA to a gig. And I've got two small kids. My wife was a midwife and she worked for a chiropractor and in those days they were allowed to do home births. They hadn't yet crashed down on that. I was kind of a health nut at that time anyway and the chiropractor that she worked for taught at the local chiropractor college and they didn't pay her and so she says, 'The money that they are going to pay me I'm turning into a scholarship. Would you like to go to chiropractor college?' And I said OK."
After qualifying as a chiropractor Denny began playing "casuals" doing weddings and Bar mitzvahs. For 15 years he maintained his chiropractic practice in Tucson, Arizona and played music at weekends. But he still continued to write songs. He explained, "I taught myself to play piano and guitar just for purposes basically of writing. Then in 1992 I'd noticed that I had written a bunch of songs that had some kind of thread through them and I said I'm going to turn this into a Broadway musical. Well, actually at that point more of a rock opera, no libretto, no dialogue. And put together a band and performed it, in a town of 4,000 that I was living in, Moab, Utah. The project was called Bramadon, which is not a real word but it was a song about a young man who was disillusioned with life and had decided to give up his evil ways. Mind you I'm not even remotely a Christian at the time. So it was a comedy drama about this fellow's life, about telling his friends that he's going to give up women and search for the truth, basically. And as he's having this conversation a woman walks into the room and he's thunderstruck by her and has a relationship with her. And then I went on to write four more musicals since then."
Another of Denny's musicals, Noir, was produced in Las Vegas in 1999.
Denny continued his story, "I got involved with a gal named Snooky Levin who was married to the bass player in People! and we hadn't seen each other for 33 years. She was very much involved with the Hadassic Jewish community in Palm Springs and I was living in Tucson. She came and I was in the middle of doing another production of Noir in Tucson and she said, 'What are you doing this in Tucson, Arizona? Why don't you come to Palm Springs where there is a more substantial theatre community? How about writing a Jewish musical?' And I said OK. So I knocked out a thing called Oy Vay - The Musical. Oy Vay is basically the Jewish term for Oh No! So I did that and got commissioned while I was there to write a gay themed musical. A fellow who saw Oy Vay had a gay TV show and he decided he wanted to be a producer. The only thread of gay that I had in it was it was about a family that had a clothing business in New York and the nephew was the gay receptionist of the company. Even though they were a Jewish family he actually wanted to be a Latino and he fancied himself being like Zorro and he designed a woman's outfit based on Zorro clothing and all this." As it turned out, the gay musical's backers pulled out when they learnt it would cost half a million dollars to produce. "So that, thank God, was never produced," commented Denny.
Denny's marriage to Lynn had ended in divorce and in 2003 Denny married Snooky. That marriage was short-lived. He explained, "No relationship or marriage has any chance if it's not based in the Lord. Even knowing this I went ahead and married her. Snooky was such a great business partner - organised everything, I didn't have to worry about any administrative things or marketing or lining up rehearsals. Even though I'd told her in the beginning that I just didn't have a romantic husband/wife kind of feeling for her she said, 'Oh, that'll come.' Snooky had all these contacts with the Jewish community. One man was quite a student of the Torah and the Old Testament and all this and so it was always fascinating to talk with him. Of course I never said that I was basically Messianic and although I wasn't a follower of Jesus yet, I had a great regard for Jesus. Then my wife and I were in a horrible car accident where we weren't hurt but should have been killed. We ended up going underneath one of these semi-tractor-trailers and the cab of my truck was crushed. We just both happened to duck and were dragged underneath the truck for about a mile until it could stop. I took that as a sign because a year previously we were in another almost accident at the exact same spot on the highway. And I don't know if you've ever been in an accident like that, it's like people say, everything happens in slow motion and you have complete peace. That was a moment of some sort of clarity for me and it was shortly after that that things moved rather rapidly and I told my wife I didn't think that we should be together."
Larry Norman had re-established contact with Denny and Gene Mason and a mini People! concert in Salem, Oregon was arranged. The People! reunion concert in April 2006 with the group's two original lead singers Larry Norman and Gene Mason was a minor marvel, the veterans performing such much loved oldies as "I Love You", the Fridkin-penned "Crying Shoes", Larry's "She's A Dancer" and the still relevant "We Need A Whole Lot More Jesus..." thrilling the audience. Recently a CD recorded made at the concert was released by Larry's Solid Rock Records. Said Denny, "After the concert I was on my way to Seattle. But I couldn't stop thinking that I needed to go back to Larry. I know now the pull was from God but at the time I was thinking Larry needed someone to look after him because he was in such poor health. Larry's son was living in the house with Larry but was getting married in August and would be moving out. I recognised that Larry needed somebody to look after him and a friend his own age. And so I just wanted to offer myself to Larry. I had my one small trailer load of belongings in storage there in Seattle. So he and Mike, his son, were about to take a holiday in Canada for a week and he said well, you're welcome to come stay at my house as long as you want. He didn't even get that I wanted to help him, he turned it round that he wanted to help me. So I caravanned down with him and Mike, followed them down to Salem. He asked me if I wanted to sit in on a Bible study. I said sure and that basically was that. That night I asked Larry for a Bible. I'd never read the Bible to speak of. Larry told me, 'For now, just read the bits in red.'"
Spiritually, things developed fast. "We were over at Larry's Mom's house end of November, early December of last year. We were having a Bible study with his Mom and he could see that something was coming over me. Larry asked me if I was ready to receive the Lord. And I said, 'Oh, yeah.' And the rest, as they say, is history. Right from the off you begin to see that one's life will thankfully never be the same as it was."
If Denny's conversion wasn't enough, Gene Mason has also submitted his life to the Lordship of Christ. Explained Denny, "The People! reunion concert in Salem was organised by a girl who is a Christian. She and Gene fell in love and are now married. And Gene has given his life to Jesus too."
On stage the night before our interview Larry had called Denny his "best friend". Denny was hugely touched by the tribute. "I can't explain in words what it means," he said. Now, as Larry's friend and helpmate Denny is determined to press on with God. He concluded our mammoth interview with these words, "I need to listen. My biggest desire is to listen to the Lord and act on that and not on my own volition. Baby steps. . . baby steps." My feeling is that this grizzled rock and roll survivor will soon be making giant steps as well.

The opinions expressed in this article are not necessarily those held by Cross Rhythms. Any expressed views were accurate at the time of publishing but may or may not reflect the views of the individuals concerned at a later date.
About Tony Cummings

Tony Cummings
is the music editor for Cross Rhythms website and attends Grace Church in Stoke-on-Trent.
Reader Comments
We welcome your opinions but libellous and abusive comments are not allowed.