Wednesday 25th February 2004
Cross Rhythms speaks to artists who've seemed a bit quiet recently. This issue we spoke to The Electrics frontman and Celtic worship pioneer SAMMY HORNER.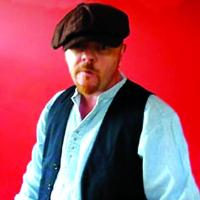 Sammy Horner has been around as long as Cross Rhythms. His band The Electrics have been much loved purveyors of rock'n'reel on the festival circuit while his pioneering solo albums were the first to fuse Celtic styling and instrumentation to praise and worship material. But in the last couple of years though The Electrics/Sammy Horner seem to have been missing from the UK Christian bookshop racks. We asked Sammy what he's been doing.
Well, I haven't really disappeared, I've been in Europe and the USA loads touring with The Electrics and more recently solo stuff. Things have taken off in the USA in a new way and places like Norway, Switzerland and Germany have kept us busy. I also took an 18 month contract with the Church Of Scotland working with boys with real behavioural issues. It was my job to use the arts (especially music) to teach them about life and faith...very challenging but worthwhile. Also worked on Masters research degree for the Church Of Scotland which is nearly done. I have been about in the UK also with John Smith doing some acoustic/preacher tours around Scotland...plus my usual little jaunts across the Irish Sea to play in the homeland! As far as disappearing goes, as you guys know I have never taken adverts, or sought out publicity. Whatever comes is what we take and in the past few years the readers of Rock'n'reel, Folk Roots and a whole bunch of mainstream publications/e-mags and web pages, will have seen reviews, articles and tons of stuff about the band and myself. The Electrics have been considered one of the best Celtic rock outfits to be found anywhere by several publications and are already on mainstream compilation albums throughout the USA with all the top Celtic rock/punk bands currently on the road. So really we've only disappeared off the CCM subculture map. But there is a really big map out there that we are definitely on! I have also been writing loads for some country projects, and a possible project with my old mate Phil Madiera. I went to Nashville in January to write some more of that...plus one or two on going things (Song Of Solomon project, Inspired To Worship project and the Preacherboy project).
Sammy released a solo album last year, 'Acoustic Celtic Praise' which has done phenomenally well in the USA. "It's just a little acoustic thing I did here in Scotland. Some of the songs on it are from the other Celtic projects, some new stuff but it is aimed at the USA market were the other albums weren't released so it's all new to them. It's been getting great reviews out there - held the number one spot on the Celtic music chart in the USA for seven weeks, only to be toppled by...The Electrics! It surprised me that a little roots album like this would chart higher than Runrig or the popular Celtic Hymns series, but it just goes to show...sometimes simple really is best. The other reason for doing this was really because guys like Phil Madiera, Buddy Miller and Bill Mallonee have all been encouraging me to go for an acoustic thing for years. Fact is, it's cheaper and simpler to go out on your own. It's a different thing of course, and a different kind of audience, but it's great and it makes it workable in so many ways. This is what I am doing for a living so I gotta make it work. The acoustic thing was an attempt to give me options. When a band is needed we go, but the guys have jobs and it's not fair to constantly ask them to come out with me - so, me and a guitar and Irish drum travel well!
The album itself is real rootsy, simple and pure in terms of songs. I hope people get it (I always do) but the reviews so far have really been getting excited by the thing and the phone keeps ringing ...you can't ask for more than that. It ended up getting country wide distribution in the USA - don't ask me how. The UK record companies could never seem to get that to happen, they always used to tell me it was about our small recording budgets, etc. Well, this album did not cost the earth...paid for it myself with the help of a few good mates and it's doing great. Go figure! I guess the other thing was, when I decided to hit the road again, I decided to do it the Celtic way. No big PR push, the old Celtic saints would push their coracle (boat) out and let the wind take them wherever God wanted them to go. I didn't take out ads, phone anyone, nothing. Just decided to go wherever I was taken...and it has been amazing.
The present climate bothers me a great deal. I meet loads of young bands hungry for success asking my advice, but if we are truly to be counter-culture then we must not become a celebrity-driven church. Maybe the big events, the media exposure are the way of the world....maybe the counter-culture is just the opposite. I might have this wrong, but that's what I have decided to go for and I have no stress regarding bookings, international work, record sales, deals. I just really don't care about it at all. If whoever God wants to hear my songs hears them then that is perfect. I don't need to get them out to as many people as possible...just who ever God wants to touch with them. I don't need to get a TV show, radio play, festival mainstages - just whoever God would have me in front of. Pressure gone. It's wonderful, and the thing is a lot of the other stuff happens anyway. Why stress about it? Why worry where you are on the line up? Just as long as the people are in front of you that will be touched, and I leave that to God. He's much better at organising that stuff!
Already 2004 includes a USA tour, a German tour, an Austrailian tour, Irish tour and a tour with John Smith in the UK plus a bunch of festivals around Europe with the lads....and I didn't make one enquiry...amazing!
We asked about the new Electrics album. "It's called 'Old New Borrowed And Green'. The band has a bit more of a punky edge these days thanks to new axeman Jimmy Devlin. The Electrics lineup these days is Davie McArthur on the skins, Timmy Cotterell on fiddle and mando and me on the old bass. It's great these days, I am loving it more than ever. The album should be done in March 2004 and we recorded it here in our own studio. We've been at it about 7 months so we really need to nail it. We are doing mainly USA and European festivals as a band, some shows in Ireland in the summer. But I think we might actually tour in the UK in 2004...maybe a short tour wherever we are wanted.
You've had a project planned with preacher/teacher John Smith for ages. Is that ever going to see the light of day?
Well, I have recorded a bunch of songs, but John was doing a Phd and got cancer and so was very sick. I am of course making some excuses here although these things were both serious and important to deal with. He is also a very hard man to nail down to get stuff from him. I will be on tour with him in September '04...all over the UK and Ireland. I think when he is here I will lock him in the studio for a few days - it's the only way to get material from the old coot. But it will be done...and if God wants you to hear it, you shall!

The opinions expressed in this article are not necessarily those held by Cross Rhythms. Any expressed views were accurate at the time of publishing but may or may not reflect the views of the individuals concerned at a later date.
We welcome your opinions but libellous and abusive comments are not allowed.