Though still young in years Leighton Buzzard's WES DAVIS has clocked up a mass of CCM experience. He spoke to Nick Castle.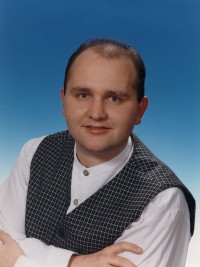 Wes Davis
Some may say that Wes Davis is a CCM veteran after doing numerous tours with the likes of George Hamilton IV and Mary Rice Hopkins and having made five albums to date, with another one soon to come. Wes is the son of Paul Davis, who as a magazine editor, broadcaster and behind-the-scenes toiler for CCM was in the '70s and '80s a seminal figure in British CCM. A forerunner to Greybeard Cummings you could say. With such a home background it was hardly surprising that Wes should take to music and by the mid '80s was writing and singing. His first album 'One Of Us' was produced by country music's, Jerry Arhelger but Wes says, "I wouldn't consider myself a country artist" despite country ambassador George Hamilton IV recording some of Wes' songs. Finding a stylistic pigeonhole in which to fit Wes isn't easy. He's pop, he's easy listening, he's a gifted worship songwriter and his last album 'Nobody Like You' was a children's album. "The other albums would be a mix between normal contemporary Christian music and worship songs. But the album really came about because we did a children's musical called 'Nobody Like You' and I put together the tracks for it. I had great inspiration from watching Mary Rice Hopkins and how she witnessed to the kids and it encouraged me to do the show. I thought it would be nice to develop ministry in that way. Initially, I was planning on writing the album which I am working on at the moment, but I changed my mind and made it a children's album."
Wes enjoyed doing a kids' album but doesn't see himself becoming Leighton Buzzard's answer to Ishmael. "It's a good challenge to do something different. I don't see it as my main ministry, but when I do concerts I tend to throw a few children's songs in, depending on the age of the audience of course!"
Wes is now hard at work on a new album. "I have written quite a lot of my next album in between moving house and getting married. However, all my equipment is split between one house and another at the moment, so it has been quite hard trying to work, but my new songs will be back to how it used to be. The children's album was a very 'up' album and great if you want a good 'cheer' and I've had some great response from people about it. But my next album will be back to a mixture of contemporary and worship songs. It is as yet untitled."
With his renowned CCM father how, I wondered, did Wes find faith for himself? "I fell away a bit through my teenage years. Back in 1984 I attended a Christian youth group, on persuasion from my sister, which was at our local Baptist church as we were living in the south of London at the time. Then I came across the Luis Palau Mission To London and it was then I really became a Christian. It is making your mind up for yourself as opposed to what your parents think which is the right way."
Wes recorded his first album at age 18. What tips would he give to CCM beginners? "Keep going at it. Listen to what other people do and get books on writing music because there are certain things that make up a good song. It's also good to check your songs to make sure they seem to match Scripture, and that they have a lot of content to them. As far as songwriting goes that would be one thing, but as far as performing goes, start where you are. Perform in your church or get involved in the worship band and just pray that the Lord leads you to the right place."
One thing Wes is adamant about is that the songwriting process helps centre him in Christ. "Yeah, each song is an experience that you've had and you do feel the Lord's presence close to you when you write. This is the big difference between Christian and secular, 'cause the power of the Holy Spirit works through your writing. This doesn't mean that everything you write you immediately think, 'Wow, this is wonderwall.' You've still got to go through and figure out what really speaks."
What music 'did Wes listen to at home, I wondered. "Lennie LeBlanc. I have been listening to him a lot at the moment. But I like a lot of different stuff, Point Of Grace, their new album. My father has been involved in Christian music for many years so I've sort of grown up on it. People like Bryn Haworth as well. Secular music-wise there's people like Billy Joel, Elton John. But currently it is Lenny LeBlanc, however you pronounce that name. I haven't quite worked it out yet!"
It was time to go. I closed by asking Wes if he had any immediate ambitions. "Immediate -I have just got married so I'm building the right foundations there really. So I think the main thing is to develop and just keep listening to what the Lord is saying. In the initial term I obviously want to release a new album. I've got the songs ready for it and it's a matter of it coming out now. I've got a lot of studio work to go though."

The opinions expressed in this article are not necessarily those held by Cross Rhythms. Any expressed views were accurate at the time of publishing but may or may not reflect the views of the individuals concerned at a later date.
About Nick Castle
Nick Castle is a member of the Leeds-based band Beautiful Feet.



Reader Comments
We welcome your opinions but libellous and abusive comments are not allowed.