Keyword search Music News
Browse by Genre
Wednesday 10th October 2018
Recording made in 1980 by Clannad sees light of day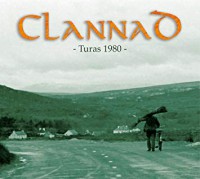 IN THE September/October issue of RnR magazine, Moya Brennan of the veteran Celtic hitmakers Clannad talked about the group's latest release, the Gaelic language 'Turas 1980'. She said, "This small German company called MIG came to us and said they'd come across a recording of a Bremen University theatre gig we did in 1980. Believe me, I cringed at first! It was recorded by Radio Bremen - we were quite new in the market, and it was really exciting for us to be doing this live radio show. They sent us a copy, which myself and my brothers listened to and thought, 'Goodness, we were really tight.' When we did Bremen, we were already a month out on a European tour, really enjoying it and completely into the set. There's not much that's duff - a few things that might get seen by trainspotters, but we were surprised [how good it was]."

The opinions expressed in this article are not necessarily those held by Cross Rhythms. Any expressed views were accurate at the time of publishing but may or may not reflect the views of the individuals concerned at a later date.
We welcome your opinions but libellous and abusive comments are not allowed.