Keyword search Music News
Browse by Genre
Tuesday 7th November 2017
Concept album for award-winning singer/songwriter Aryn Michelle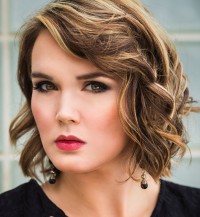 A CONCEPT album 'The Realest Thing' by Aryn Michelle inspired by the book Reasonable Faith by William Lane Craig has been released. Read a press release, "The Realest Thing' walks through several philosophical arguments for the existence of God and the primary evidences for Jesus Christ as his son. Each of the songs on this album aspires to encapsulate these arguments in a memorable way so that people of faith can have a song in their heart to correspond to the reasoning in their head." The project was produced and mixed by Chad Carouthers.

The opinions expressed in this article are not necessarily those held by Cross Rhythms. Any expressed views were accurate at the time of publishing but may or may not reflect the views of the individuals concerned at a later date.
We welcome your opinions but libellous and abusive comments are not allowed.