Please note: this artist is either disbanded or deceased.
1996 Hard Music Album:
Haven - Waiting For The Daylight
Read review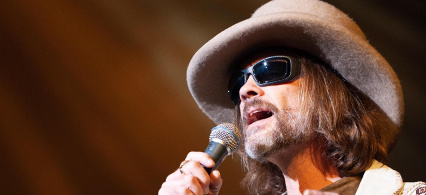 Bo Bice: The rock, country and gospel singer still talking about American Idol
Tony Cummings spoke to the singer, songwriter from Huntsville, Alabama, BO BICE

[07.01.21]

Elle Limebear: Martin Smith's daughter declaring she's 'Lost In Wonder'
Tony Cummings reports on a bright new light in the modern worship firmament, ELLE LIMEBEAR

[03.03.20]
Elim Sound: The worship collective with the radio hit, "The Kingdom Is Coming"
Tony Cummings spoke to Sam Blake, the National Director of the Elim movement's worship collective ELIM SOUND

[28.02.20]
Philippa Hanna: Britain's most popular female Christian artist signs with Integrity Music
Tony Cummings reports on PHILIPPA HANNA and the recording of her first ever worship project

[12.02.20]
T Haddy: The Georgia-based singer and rapper with over 20 years of service
Tony Cummings spoke to the singer, rapper and producer T HADDY about his "Fire Fire" radio hit

[07.02.20]
Artists database
Artist ID: 9366

Style: Hard Music
Approach: Ministry

Contact Address
Southport
Country: United Kingdom




At Cross Rhythms
we are constantly working on our artist and music database to make it as complete and comprehensive as possible. However sometimes we do not have full information for an artist and on occasion there may be omissions or mistakes. If you think that there is a problem with this entry, please help us by emailing
admin@crossrhythms.co.uk
.