Steve Maltz on rising above the problems we face, and finding hope in something more secure than this world can offer.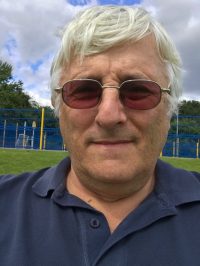 Steve Maltz
Here's a short list of features from our daily lives to bring shivers up your spine - Donald Trump, Islamic terrorism, North Korea, Trump (again), climate change, elections, inflation, mortgages, redundancy, financial insecurity, my health, my family's health.
There are big problems that won't go away, problems that are weighing others down. I can see it in their eyes, as they trudge to work on the Underground, and as they pass me on the streets. It's hopelessness that comes out of helplessness, of living in a world out of control, and a world that's increasingly harder to figure out.
Too much, too much! So much to think about and worry about. It could really be weighing me down, like an anchor sinking in quicksand.
Yet there's another anchor, the one that I hold on to, the one that's anchored on dry land, that's chained to foundations that are firm and unyielding. That's my anchor, that's my hope. As it says in the book of Hebrews, we have this hope as an anchor for the soul, firm and secure.
And what is this hope that can help me to rise above the problems of everyday life?
I have the hope given to me through the death of my Saviour. How out of that death comes life, joy and hope for the future.
Do you have this hope? I suggest that you need it, but do you really want it?
Perhaps you first need to know more about it.
The Greatest Hope
We who are followers of Jesus Christ have the greatest hope of all, signed, sealed and delivered by Him dying for us on that cross.
We are told in the Book of Romans, that He who did not spare His own Son, but gave Him up for us all, how will He not also, along with Him, graciously give us all things?
He will graciously give us all things. How's that for hope!
He took the initiative. He didn't say, look, if you join me and be one of my followers, I will make a grand gesture on your behalf. No, He did the opposite. He endured the horrific physical pain and spiritual trauma of the cross first, while men and women were living their own selfish lives and were a million miles away from a relationship with God. He did this for you and me, and He even did this for the murderers, villains and adulterers out there. He did this for all of us, because there is nobody out there who He doesn't accept, despite anything they may have done in their lives.
He acted first, because He loved us, and because He wanted us to have hope, because He knew that hope for the future helps us live in the present.
Our world today is full of uncertainty and fear. Many can't cope with this uncertainty and there are a lot of lost and broken people out there. It needn't be so, yet most are too blinded by the cares of the day to be able to look beyond at possible solutions.
It's there in plain sight, or it would be if we Christians were better witnesses to this wonderful hope that we are urged to share with others.
We have a sure hope, given to us as a free gift from God. It's a 'no-brainer', how can we refuse this offer? It's given to us on a plate.
Have you accepted it yet? Are you living in this sure hope?

The opinions expressed in this article are not necessarily those held by Cross Rhythms. Any expressed views were accurate at the time of publishing but may or may not reflect the views of the individuals concerned at a later date.
About Steve Maltz
Steve
is the author of 25 books. He is also the founder of the award-winning web radio initiative, Saffron Planet (
www.saffronplanet.net
), one of the world's oldest messianic web communities, Saltshakers (
www.saltshakers.com
) and the Foundations national conferences (
www.foundationsconferences.com
). He is married with two grandsons and a curiously unsentimental cat.
View all articles by Steve Maltz
We welcome your opinions but libellous and abusive comments are not allowed.