A pastor at Chicago's Jesus People USA and the frontman for the Resurrection Band, GLENN KAISER here muses on the fights and discords within our churches.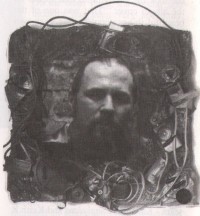 Glen Kaiser
With a LOT of help from a couple of cool Christian friends, I was recently able to establish a web home page on the internet. The wonder of it all! Many thousands of people looking inside my mind worldwide! (Is this REALLY a good idea?)
Anyway, I have been thinking and writing a lot about the Church in the past year or two and was asked to include some of my heart for her (the Church) in the web page. That brings me to what I will say now.
The Church is comprised of us - those who are saved, born again, redeemed Christians -and this only by God's grace in Jesus' sacrifice for us on the cross. Yet the fact is that we all sin. We still battle Satan and in my opinion, far worse, Self. We have in our power the ability to rebel against God, ignore Truth and rage against both the Lord and one another any time we like. This we all do on occasion.
By invitation, I seem to be ministering to leaders in various local churches more and more. I've listened and responded one-on-one, gone to ministerial breakfasts and retreats, sat in on a number of board meetings, travelled a fair bit and seen and heard most everything about the problems of church life. Not "all", but surely "most"! Issues such as immorality, gossip, slander, lying, self-righteousness and harsh judging (or, "judging according to the flesh") are as common topics as they have ever been. Discussions and prayer continue with regard to jealousy, fairness, discord, division and strife. In plain American English, "Perfect we ain't!"
From time to time people scratch their heads in amazement and ask me how such things can happen in a spiritual society where the very basis for being is LOVE. Here goes:
One of the many devotionals I have read over the years is by DL Moody. In one passage last month, I came across a quote where he said he never had more trouble with anyone to the extent he did with DL Moody! Same here. Contrary to popular opinion, it only takes one to have an argument.
Have you ever sat alone, fantasizing how a conversation would take place between yourself and someone else? Perhaps an "enemy"? Maybe even with a friend? You see, even alone, we trouble ourselves. But to have a fight takes two. To repent (on either or both sides of an argument) and find true reconciliation with anyone takes at least three: you, the other person and Jesus.
More and more churches are calling for Christian individuals outside their particular fellowship to come and mediate major conflicts. Our own community has done this on several occasions and found it very helpful. A person who has a more objective viewpoint can really shed light on the issues if only those in the debate are willing to be honest about what they actually said and did. Sometimes, the hardest part in such a meeting is getting people to be very honest about what it is they actually want.
Yet the lion's share of the answer I typically offer about the basis for petty fights among Christians comes directly from the Word: "Where do wars and fights come from among you? Do they not come from your desires for pleasure that war in your members? You lust and do not have. You murder and covet and cannot obtain. You fight and war." (James 4.1-2a)
Too many breakdowns occur due to the simple fact that people live far more for themselves than for Jesus and his Kingdom. The consumer mentality sets us up to take, not share; gain, not surrender; become upwardly mobile, not give ourselves to humble tasks - to look out for Number One rather than to love and obey the Alpha and Omega and lay our lives down for others.
When the brothers and sisters alongside of me are truly seeking and serving God and at the same time I happen to be busily trying to achieve my personal goals of greater wealth and comfort, either I repent, they backslide or we eventually end up in conflict. Why? Conviction, conscience, the guilt I feel due to their sacrifice against my selfishness. Let's face it, this is also a HUGE source of why many Christian "friends" part one from another.
I do not say this lightly, but in the light of such conflicts: Praise God for his faithfulness to each follower! His grace is indeed sufficient. It has always been and will always be sufficient. I speak from the experience of weathering such conflicts personally. Those have been times of real growth for me, as such situations have brought me to seasons of fervent prayer, Scripture and soul-searching. This has all worked change in me, either to solidify my original position, teach me balance that the other party (or parties) moved me toward, or a combination of both. At the very least, it's educational!
Finally, I find myself mentioning this quite a bit in my travels: one cannot love God and hate the Church. For that matter, since all true Christians are a part of the Church, if we hate her, we hate ourselves. May God teach us to live and die TOGETHER in Christ Jesus.
As always, the Lord has the last word: "Behold, how good and how pleasant it is for brethren to dwell together in unity!... for THERE the Lord commanded the blessing..." (Ps 133.1, 3b)

The opinions expressed in this article are not necessarily those held by Cross Rhythms. Any expressed views were accurate at the time of publishing but may or may not reflect the views of the individuals concerned at a later date.
About Glenn Kaiser
Glenn Kaiser
lives at the Jesus People USA church/community in Chicago and is a founder member of the Resurrection Band.
View all articles by Glenn Kaiser
We welcome your opinions but libellous and abusive comments are not allowed.