Friday 23rd November 2018
Acts 9:1-19, Acts 1:8, Colossians 3:17

David Hellyer reflects on his call by God to stay in his home church and his brothers' call to move abroad.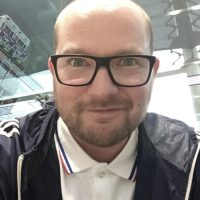 David Hellyer
I have two brothers who both live overseas, one in South Africa and one in Bosnia & Herzegovina. Both of them work for local churches in the areas that they have moved to, and both of them have been faithfully serving in their new countries for over 10 years.
It's amazing to see how both of them in very different ways have responded to the call of God on their lives and journeyed by faith to the place in which they serve now. One of them serves in a large church, the other one serves in a tiny church. Regardless of the specifics of their context they are both living as sent people.
Sometimes I think about the amazing adventure my brothers have been on and am tempted to think that they are living as sent people, and I'm just a regular bloke. I still live in the town I was born and raised in. I still live in the town (attending the same church) that both my brothers left over 10 years ago. Am I any less 'sent' than they are? Did God have a call for them, but not for me? Why am I here, but they are there?
When we look at the story of Saul's conversion in Acts 9, I'm always drawn to one particular character, Ananias. Ananias was a local believer who God told to go and pray for Saul whilst Saul was still blind. Ananias understandably double checks that he has heard God correctly about who he is being sent to, and the Lord reaffirms that Saul is the correct person to go to and pray for.
In Acts 9:15 God says: "Go! This man is my chosen instrument to proclaim my name to the Gentiles and their kings and to the people of Israel." Saul is called by God to proclaim His name to a wide variety of people, in a wide variety of places. In this instance, Ananias was called by God to visit just one man in his own town. Both were called. Both calls were significant.
My brothers are both called 'away'. Both have left their home town and country to take the good news of Jesus to others. It's an exciting call and it's an important call - it's no small decision to leave your family, friends and home town not knowing if you'll ever move back again.
I take inspiration from Ananias, on one level my own call may not seem as exciting or special, because I'm still living in my home town, and I still serve in the same church. But I have to appreciate the fact that just like Ananias, I am called to 'go' right where I live. I believe you are too.
When I am tempted to think that mission work is done by those who travel overseas, or by those who have a special call on their lives. I remember that God has called me to go to the town, city or village I live in (just like Ananias did), which is just as important as going overseas.
The famous charge in Acts 1:8 to be His witnesses in Jerusalem, Judea, Samaria and to the ends of the earth, is a reminder that our commission is to go right where we are as well as the whole world.
Wherever you are today, be encouraged by the story of Ananias and Saul. God has a specific calling on your life. It may be to 'go' right where you are. Or it may be to 'go' to a totally new town or country. Whatever you do or say today, do it as a representative of the Lord Jesus, giving thanks through Him to God the Father.

The opinions expressed in this article are not necessarily those held by Cross Rhythms. Any expressed views were accurate at the time of publishing but may or may not reflect the views of the individuals concerned at a later date.
Sign up now to receive weekly Life Files, direct to your inbox.
We welcome your opinions but libellous and abusive comments are not allowed.