Friday 27th December 2019
Philippians 4:6, Proverbs 3:6

David Hellyer on speaking to God about what's really in your heart, not just what you think you should say to Him.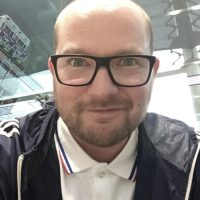 David Hellyer
My son loves birds. He turned 10 last month and we took him to Bird World so he could get his fill of birds.
He loves all kinds of birds. The ones he can spot in the garden at home, as well as the more spectacular birds which he can normally only see in books or on YouTube videos. Vultures, parrots, owls and eagles. Visiting Bird World was amazing because he was able to not just see some of the incredible birds they have there, but he got the chance to handle a couple of them too - which totally made his day!
One of the most remarkable moments of the day came when we had finally decided that the rain had got the better of us, and we should head home. We walked past the Cockatoo enclosures to see them before we left. We stood staring up at these magnificent birds, and of course said "hello". Having heard this greeting, probably hundreds of times before, the cockatoos cheerily replied; "Hello", they said back to us. We fell about laughing, before launching into a five-minute back and forth just saying "hello".
At this point my younger son (who is 6) felt brave enough to go off-piste with his conversation. "I love you" he said with a smile beaming all over his face. The cockatoo paused for a moment. It didn't know how to respond. My younger son tried again "I love you". No reply.
Just like that the whole illusion of our conversation came crashing down. We hadn't really been speaking to the cockatoos, we had just been saying "hello" to them, and they had replied by mimicking what we had said.
We left by saying "goodbye", which of course sparked a chorus of cheery "goodbyes" from the cockatoos. They were back on script again and confident.
This cockatoo mimicry made me think. Do I fall into the trap of merely being a parrot in prayer? Do I just make the right noises at times, without really meaning what I say? How often does God speak to me, only for me to carry on with what I normally say in prayer rather than daring to be like my son and say what's really on my heart?
God isn't scared of my fears, or concerned by my worries. He's bigger than all the things that concern me. I was instantly reminded of Philippians 4:6, "Be anxious for nothing, but in everything by prayer and supplication, with thanksgiving, let your requests be made known to God".
The key idea in that verse is that whatever is going on - good or bad, keep talking to God about it. Thank Him in all the different situations you find yourself in. Acknowledge your need for His help in every circumstance (even when you think you don't need any help). Just like we're told in Proverbs 3:6, "In all your ways acknowledge Him, And He shall direct your paths."
My own challenge in this season is to be less like the cockatoos we saw at Bird World simply repeating things I've heard others say. Instead I want to be more like my young son who spoke what was really on his heart, he spoke his own words. I choose to keep talking to God, and to speak my heart to Him, confident that He hears me.

The opinions expressed in this article are not necessarily those held by Cross Rhythms. Any expressed views were accurate at the time of publishing but may or may not reflect the views of the individuals concerned at a later date.
Sign up now to receive weekly Life Files, direct to your inbox.
Reader Comments
We welcome your opinions but libellous and abusive comments are not allowed.