Friday 28th December 2018
Hebrews 9:22, Romans 5:19, Luke 4:18

Deborah Mitchell shares how Jesus is our hope if we're struggling with poverty or loneliness this Christmas.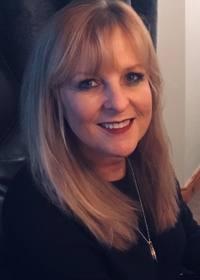 Deborah Mitchell
I am currently in Disney, Florida on holiday with my family. How blessed am I?

There was many a Christmas I struggled through but Jesus always found a way to make Christmas fun for my family. The one my children remember with greatest fondness was when I went and got a dog that was free to a good home. It found a good home but it was not a good dog - a collie that was convinced my children needed herding like sheep. Biting their heels was not out of the question for that dog. Hence the reason the family were giving the dog away, they just omitted to tell us!

Having worked in the community for many years, I am acutely aware that Christmas can be a difficult time for people. It can accentuate loss, loneliness, poverty and ill health. In all of the razzmatazz and commercialism, the true message of Christmas can be lost. It's a message of hope.

The true meaning of Christmas is the celebration of the birth of Christ. The Father in heaven longs for intimate and sweet fellowship (companionship) with man which was lost when Adam and Eve disobeyed God's commandments in the Garden of Eden. God sent Jesus Christ who provided restoration for man with God by giving his own life and shedding his blood. Hebrews 9:22 - There is no way to eradicate the effects of sin except by the blood, without the shedding of blood there is no forgiveness of sins. Romans 5:19 tells us that through Jesus we are made right with God. Billy Graham said "The cross shows us the seriousness of our sin but it also shows us the immeasurable love of God."

If you have enough knocks in life, it's difficult to imagine that you can have good times. It can feel that happiness is for other people. I remember being flat broke in a supermarket, buying the cheapest groceries, worrying how to pay all my bills when I met some friends. They were all excited as they were off to Disney, Florida. I was delighted for them, but it made me more aware of my position of lack. I just seemed to accept that was the way for me, I just couldn't seem to cut a break. I am sure other people must feel the same way I did then. However, as I followed Jesus, through the years, He has restored and blessed my life. I now have a different attitude - why should I not be blessed? I belong to Jesus; He is no respecter of persons.

I am using Disney as an example of part of my testimony but it goes way deeper than a two week holiday, as grateful as I am for that. Luke 4:18 - He is good news to the poor. He sets the captives free. He opens the eyes of the blind and sets at liberty those who are oppressed.

There is hope for you in the Christmas message. His name is Jesus, the greatest gift of all.
As we enter 2019, we can have great hope in our hearts, that through Jesus we will not be alone.

If you have never received Jesus, pray this prayer:

"I believe in my heart and confess with my mouth that Jesus is Lord. I am sorry for my sins and believe that Jesus died for my sins and was raised three days later. Thank you for saving me - Jesus is the Lord and Saviour of my life. Amen."

The opinions expressed in this article are not necessarily those held by Cross Rhythms. Any expressed views were accurate at the time of publishing but may or may not reflect the views of the individuals concerned at a later date.
Sign up now to receive weekly Life Files, direct to your inbox.
We welcome your opinions but libellous and abusive comments are not allowed.