Lins Honeyman pays tribute to the late singer, songwriter and guitarist MARK SPOELSTRA
Mark Spoelstra
The legendary New York Greenwich Village folk scene that burst into life in the early '60s saw fresh-faced acts like Bob Dylan, Joan Baez and Peter, Paul and Mary find their feet in the area's coffee houses and clubs alongside more established names such as Leadbelly, Pete Seeger and the Reverend Gary Davis. But, for every Dylan and Baez there were probably 20 other less-celebrated but just as valid acts who have since slipped under the radar. One such artist was the late, and subsequently recognised by some historians, great singer, songwriter and guitarist Mark Spoelstra. When he died in 2007 Spoelstra left behind some of the finest folk blues and Americana of the post war years.
Born in 1940 and raised in Kansas City to a Quaker family, Spoelstra's musical journey began after a move to El Monte in California when, at the age of 11, he began taking guitar lessons. A couple of years later, the budding guitarist found himself playing at his first professional gig at a house concert in the San Marino region of the state before gaining experience by playing live at various folks clubs in the surrounding area - including a support slot for revered blues duo Sonny Terry and Brownie McGhee at Hollywood's influential Ash Grove nightclub.
Before long, Spoelstra made the move to Berkeley in San Francisco and finally New York where he landed a recording contract with the pioneering Folkways Records which in turn spawned the 1963 albums 'The Songs Of Mark Spoelstra With Twelve String Guitar' and 'Mark Spoelstra Recorded At Club 47 Inc'. It was around this time that Spoelstra became friends with a certain Bob Dylan who himself was starting out as a singer/songwriter on the Greenwich Village scene. Spoelstra later recalled his friend's somewhat adverse reaction to the Folkways deal: "I was under the impression that almost anybody could record for Folkways but that turned out not to be true. And I didn't know it at the time but later I found out that (Moe Asch, Folkways Records owner) had refused to sign Bob Dylan. (Bob) was really ticked off and acted really bizarre."
Nonetheless, Spoelstra would find himself occasionally performing with Dylan at the plethora of folk clubs that were scattered around the Village and went on to play at prestigious events such as the Newport Folk Festival and the Carnegie Hall Hootenanny. Tours of Europe and Canada followed but it sparked an unease in Spoelstra that would significantly influence his later career choices. "Something was missing," Mark was to explain retrospectively. "I couldn't see myself living on the road and raising family. And I really wanted a family."
The decision to pull back from performing was initially taken out his hands on account of an obligation to perform alternative service in Fresno, California thanks to his stance as a conscientious objector at a time when young US men were still being compulsorily drafted into the armed forces. "Because I was raised as a Quaker in Southern California, I really believed that I was not going to put on a uniform ever except the possibility perhaps of becoming a medic and going in as a non-combatant," Spoelstra recalled later. "I really felt that it was just wiser to do something that was more positive, like community development work. That's what I did for two years."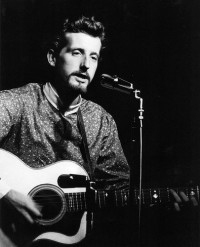 Following his stint of alternative service, Spoelstra went on to record two acclaimed albums for the Elektra label - the recently reissued 'Five & Twenty Questions' (1965) and 'State Of Mind' (1966) - with songs like "White Winged Dove" and "Fife And Drum" reflecting his desire to advocate peace whilst the striking "Won't Allow Mankind To Rest" tackled the inherent racism of the day. His songs would prove popular with audiences and fellow performers alike with upcoming socially-conscious artists such as Joan Baez and Harry Belafonte covering Spoelstra's "Just A Hand To Hold" and "My Love Is Like A Dewdrop" respectively whilst John Lennon enthused via handwritten notes on a Spoelstra record that had been sent to him that it contained "good vocal sounds - very hillbilly, folksy, Hank Williams sound, lots of good chords." In addition, a smattering of instrumentals showcased Spoelstra's innate skill as a 12 string player that betrayed the influence of his veteran blues guitarist forefathers. "When I'm sitting down and writing a 12 string (song)," he would admit, "Furry Lewis' soul will just come out of my fingers."
Up until the end of the '70s, Spoelstra would record a handful of albums for different labels as well as getting involved in side projects such as appearing on the soundtrack of the 1973 film Electra Glide In Blue and setting up the short-lived Frontier Constabulary band. During this time, Spoelstra had taken the decision to withdraw from touring and settle down near Modesto in California where he and his wife Sherry raised a family with the couple fully embracing Christianity as a way of life. In fact, by this point, Spoelstra was ordained as a minister and used his musical gifts to communicate the Gospel through the albums 'Somehow I Always Knew' (1977) and 'Comin' Back To Town' (1979).
However, Spoelstra had effectively retired from professional music by 1980 to take up a number of different day jobs including a stint as a tour bus driver at the world famous Yosemite National Park which allowed him to spend quality time with his children and subsequent grandchildren whilst still being able to connect with people on a daily basis amidst the spectacular waterfalls and granite mountains of his workplace.
At the turn of the millennium, Spoelstra found himself back in the studio to record the well-received 2001 album 'Out Of My Hands' which saw the now seasoned singer/songwriter offer up a new set of songs under the production auspices of Michael Kieffer and Cary Ginell. "The songs Mark Spoelstra sings are all his own," observed Ginell in the album's inlay booklet. "They are warm, passionate, light-hearted, bluesy and intensely personal. Mark experienced something of a rekindling of creative energy while driving a tour bus in Yosemite National Park. He has also discovered who Mark Spoelstra was and is." Spoelstra too was enthusiastic about his newfound creative urge: "Now I have no need to compete to be recognised. Now I can just enjoy playing and singing. I am fortunate I can still do it and have fun doing it."
In the following few years, Spoelstra would occasionally perform on stage and would do so until the summer of 2006 when illness took its toll. Sadly, Mark Spoelstra passed away in February 2007 following complications brought on by pancreatic cancer leaving behind a small but perfectly-formed back catalogue of songs that continue to attract and inspire new listeners through reissues and the accessibility of the internet.
Best placed to pass comment on a man recognised by many as a brilliant but underrated singer/songwriter/guitarist with a laudable social conscience and integrity that consistently took precedence over his music is his son Joshua who poignantly commented on the day of his father's death: "Today, my father Mark Spoelstra passed away here in his lovely but modest home in the Sierra Foothills of California. There was snow on the ground and we could see the trees which surround the house like sentinels sway with the force of another approaching storm. We held him as he left us and I know he had no fear and felt no pain and, even though his life was cut short, he found the strength to tell each of us he loved us. I will miss him greatly."

The opinions expressed in this article are not necessarily those held by Cross Rhythms. Any expressed views were accurate at the time of publishing but may or may not reflect the views of the individuals concerned at a later date.
About Lins Honeyman

Lins Honeyman
is a Perthshire-based singer/songwriter and currently presents The Gospel Blues Train on Cross Rhythms Radio on Saturday nights from 11pm and on Listen Again.
Reader Comments
We welcome your opinions but libellous and abusive comments are not allowed.