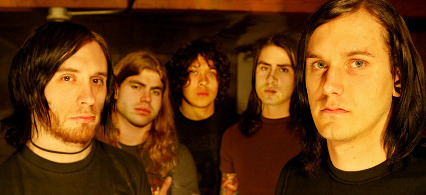 Please note: this artist is either disbanded or deceased.
As I Lay Dying: San Diego's hardcore exhorting us to stop focussing on ourselves
Tony Cummings brings an update on America's best selling hardcore team AS I LAY DYING

[13.08.10]
As I Lay Dying: Shadows Are Security
Tom Evans reports on those metalcore masters from San Diego, AS I LAY DYING.

[25.03.06]
2018 Hard Music Album:
As I Lay Dying - My Own Grave
More info
2002 Hard Music Album:
As I Lay Dying, American Tragedy - As I Lay Dying/American Tragedy
More info
2001 Hard Music Album:
As I Lay Dying - Beneath The Encasing Of Ashes
More info
Underoath: The rise and (spiritual) fall of a Christian band
Tony Cummings reports on the controversy surrounding the new 'Erase, Me' album by UNDEROATH

[28.04.18]
Righteous Vendetta: The Wyoming-based hard rockers to bless fans with 'Cursed'
Tony Cummings reports on the eagerly awaited album return of RIGHTEOUS VENDETTA

[30.01.17]
The 20 Best Albums Of 2012
Once again Tony Cummings sifts through around 1,000 Christian music releases to identify the 20 best albums

[05.12.12]
The 20 Best Albums Of 2010
In what has become Cross Rhythms annual service to its readers Tony Cummings and Mike Rimmer look back on the best CDs from the 1,000 plus reviewed in 2010.

[15.12.10]
Silence The Epilogue: The US metalcore band
Tony Cummings quizzed America's SILENCE THE EPILOGUE about their dark metalcore.

[01.05.04]
Artists database
Artist ID: 8264

Style: Hip-Hop
Approach: Ministry

Contact Address
San Diego
California
Country: United States




At Cross Rhythms
we are constantly working on our artist and music database to make it as complete and comprehensive as possible. However sometimes we do not have full information for an artist and on occasion there may be omissions or mistakes. If you think that there is a problem with this entry, please help us by emailing
admin@crossrhythms.co.uk
.