'Overjoyed that Asia is finally free - but why has it taken so long?'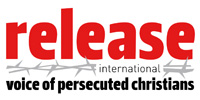 Release International
Release calls on Pakistan to repeal blasphemy laws and release 200 others.
'Overjoyed that Asia is finally free - but why has it taken so long?'
Asia Bibi is finally out of Pakistan. Officials have confirmed that Asia has been released. Her lawyer has told CNN she is now in Canada, where two of her daughters have already been granted asylum.
The Christian woman was acquitted of blasphemy by the Pakistan Supreme Court last year, but has not been free to leave the country. Instead, she has had to live in safe houses to escape extremists who continue to call for her to be killed.
Asia was originally charged with blasphemy after sharing a cup of water with Muslim farmworkers, who called her unclean because she was a Christian.
'It's a big day,' Asia's lawyer, Saif Ul Malook, told The Guardian. 'Asia Bibi has left Pakistan and reached Canada. She has reunited with her family.'
Repeal
Release International has long been campaigning for Asia's freedom and the repeal of Pakistan's notorious blasphemy laws.
Release International is now calling for Pakistan to review the cases of 200 other Christians behind bars for blasphemy.
When Asia Bibi was acquitted by the Supreme Court in October 2018, thousands of militants took to the streets calling for her death and for the overthrow of the government. The Supreme Court decision was challenged and later upheld on January 29 this year.
Even then, Asia was not free to go, but had to remain in hiding, while extremists searched for her door-to-door. Her 10-year ordeal was not yet over.
UK-based Release International supports persecuted Christians around the world. Its CEO Paul Robinson says: 'We are overjoyed that Asia is finally free. But why has it taken so long for this innocent woman to be allowed to leave?
'The government of Pakistan must act now to safeguard its Christian minority against mob reprisals by stepping up security against any suggestion of rioting and violence.
'And it must urgently review the case against every other prisoner who has been accused and jailed for blasphemy.'

We welcome your opinions but libellous and abusive comments are not allowed.