Sunday 24th November 2019
Paul Calverts chats to Diane Nelson, a social worker and Director of Bridge to Jerusalem, about how she helps people in need in Israel and Jerusalem.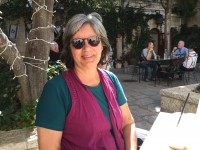 Diane Nelson
Paul: What is Bridge to Jerusalem?
Diane: It is a very small non-profit, based out of Oregon US and it consists of me, Diane Nelson, a licensed social worker.
Paul: When did you start the organisation and why did you start it?
Diane: I started it officially about 6 years ago but it actually began 10 years ago when I retired from working in a psychiatric hospital. I had been working for about a decade and I needed a break. I wasn't sure what was going to come next but I felt that God was telling me that there was something. I don't always go by these thoughts and feelings, but I knew it was God.
So I left my career, my pay check, my insurance with total peace and about two months after I left I was invited to help a non-profit in Jerusalem. They needed a social worker urgently and I felt like that was God just opening a door. They invited me back and then other agencies began to ask for my assistance and so about 6 years ago I realised I was never going to go back to a paying job and I so started the non-profit organisation.
Paul: Who in Jerusalem do you work with?
Diane: Different organisations. Non Profits, Machaseh association, which is a family crisis centre. Anchor of Hope which is a messianic counselling centre, based out of King of Kings in Jerusalem. I have helped out with the red carpet male centre in Tel Aviv which is an organisation that helps victims of prostitution and sex trafficking and I partner with the Domari gypsy community centre in East Jerusalem. I have done little projects with the pregnancy centre here in Jerusalem and a woman's recovery home in Arad.
Paul: How do you connect with people in the land of Israel?
Diane: Through building relationships. That is the only way really to do anything I think in the Kingdom of God and that is the way it has worked here. I just came here because of a friend of a friend and then as people got to know me they began to get trust in me and invited me to partner. So I didn't seek anybody out it was just God organising things through relationships.
Paul: Is Israel a stressful place to live?
Diane: Oh yeah, I say that with a laugh. It is a different world. I come from little polite America where everyone stands in line and makes room for you, nobody honks on the roads. Here everything is the opposite, it is very intense, and you have to push your way through. If you wait to get onto a bus or off of the train for your turn, you will never get on or off because everyone is pushing, pushing, pushing.
But everything is harder here, it's hard to explain. It's not just being a tourist, I think even Israelis who have left to go to Europe or America and then they come back, they see it is a stressful place to live.
Paul: Is there a need for stronger social work here in the land of Israel?
Diane: Well I am not an expert of course, because I just come here as a volunteer but from what I understand I think, yes, there is. Actually I could probably say there is a strong need everywhere in the world. If you look at what is going on in the world, there is a lot of broken people. A person told me that an estimate of 98% of the people who live in Israel have suffered post traumatic stress or have post-traumatic stress disorder. So I would say just based on that you could never have enough social workers.

We welcome your opinions but libellous and abusive comments are not allowed.