Sunday 1st September 2002
The Stoke-on-Trent ministry CROSS RHYTHMS continues to move forward on numerous fronts. Tony Cummings reports from the Conway House epicentre.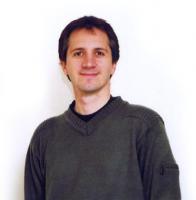 Jonathan Bellamy, Cross Rhythms General manager
Cross Rhythms headquarters in the heart of Stoke-on-Trent is buzzing with activity. Chris Cole is in Studio 1B talking on air to his guest from one of the local churches.
A floor down, presenter Martin Purnell is on the phone to Beki Bateson, Greenbelt Festival's manager, whom he'll be interviewing on his programme later this afternoon. A few feet away programme controller Steve Perry is adding some hot new items to the Cross Rhythms playlist while, near him, Maxine Cummings, magazine co-ordinator, is transcribing a taped interview of thebandwithnoname. On the other side of the throughway accounts manager Richard Anson is writing a letter to a subscriber while advertising and marketing manager Heather Bellamy is working out the dimensions of an ad Cross Rhythms is to have in another publication. Head of TV Dominic Wilhelm is crouched over a lap top. With the TV department not too busy at the moment, Dominic is depping for radio presenter Mike Farrington, producing and presenting his daily Community Vision programme. Mark Goodge, who technically designs CR's hugely popular website, is working on the website chat room script. On the adjoining desk IT co-ordinator Sam Oliver is working on the new CR database.
Trying to bring order to all this multifarious activity is Cross Rhythms general manager Jonathan Bellamy. He's been run off his feet since the 9.00am prayer meeting with a couple of meetings already this morning and his afternoon schedule looks even more demanding. Somehow Jonathan finds time to snatch a few minutes with this greybearded journalist. It's been one month since Cross Rhythms moved into the five storey Conway House complex that previously housed BBC Radio Stoke and five months since its groundbreaking FM station Cross Rhythms City Radio went on air. With its rapid expansion has come huge new demands - financial, in manpower, and spiritual. How were things progressing, I asked Jonathan. "Well, financially we still have quite a way to go. We've just embarked on a major appeal to Britain's churches, mail shotting 25,000 of them asking whether they would consider becoming Friends Of Cross Rhythms and supporting us financially. As of today we have 477 Friends, mainly individuals, and we really need 3,500 to cover all that we believe God is bringing us into over the next year or so. But there is a steady trickle of new Friends and we're grateful to God for putting it on people's hearts to join us in this venture. We feel every one represents someone who really understands what we're doing in media and wants to empower us to do it. Concerning our other material needs, we need more volunteers. We've taken on a number of young people helping us with filing, putting CDs on the database, building up our DirectoryÉ all manner of jobs, and we could do with more. It was amazing moving in because the BBC left all their equipment and we basically moved straight in and started broadcasting. Of course you can't take on such an expansion without there being some key pieces of equipment we need so if anybody wants to help us with some computers, office equipment and software we'd love to hear from them.
"Another thing we're doing in trying to maximise our income at the moment is we're looking to rent out the second floor of this building to other 'strategic' organisations in the area."
Conway House, the new home of Cross Rhythms
Despite the difficult financial realities surrounding a groundbreaking Christian media charity, Cross Rhythms is positively exploding with fresh opportunities to minister. Jonathan's eyes light up as he lists some of the new doors opening for the ministry. "This is a very we've been asked to run an evening, one Wednesday a month, at a rock pub, the Rigger, in Newcastle-upon-Lyme. To see Goths and bikers enjoying P. O. D. and Kosher and listening to John Smith slots in a rather notorious pub is confirmation that we are beginning to break through with certain sections in the city. The music is the key - it opens the doors of opportunity and it stands up in a mainstream context. Then we've got a programme coming up on City Radio, produced and presented by Mike Farrington, called Facing Cancer which will include some moving testimony and is being advertised in the local newspaper, The Sentinel. A local church is going to run a listening line for people who want to talk or want prayer. This is church and media working strategically together. Similarly, another initiative we're excited about, coming up in November, is an evangelistic gig with thebandwithnoname that we are organising with youth workers from Stoke churches. There are other plans beginning to take shape, including a possible Academy Of Christian Media and the launch of CR Direct. It really is an exciting time of growth."

The opinions expressed in this article are not necessarily those held by Cross Rhythms. Any expressed views were accurate at the time of publishing but may or may not reflect the views of the individuals concerned at a later date.
About Tony Cummings

Tony Cummings
is the music editor for Cross Rhythms website and attends Grace Church in Stoke-on-Trent.
View all articles by Tony Cummings
Reader Comments
We welcome your opinions but libellous and abusive comments are not allowed.