Tuesday 19th November 2019
English church leader, known as the 'Ginger Vicar' has embarked on a 500-mile trek along the Camino route with a surf board on his back, to raise awareness of the growing global Surf Church movement.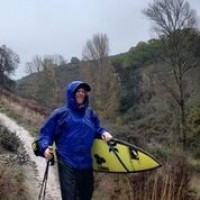 Richard Ellerington
Richard Ellerington, originally from Bristol, Somerset will be hiking the famous pilgrimage over a 35 day period and will be the first to do so with a surf board in tow.
Having previously been a vicar in Weston-Super-Mare, 7 years ago Richard Ellerington and his wife Regi moved to France to set up Surf Church near Biarritz. The church was a haven for surfers and even received support from major surf brands.
The Surf Church concept is now going global and, in a bid to raise awareness and support to set up new Surf Churches around the world, Ellerington is walking the 500 miles of the Camino. The challenge will take him through the Pyrenees mountains of France and into countryside of northern Spain with a surfboard strapped to his back. During the 35 day endeavour, Ellerington will be be joined for parts of the trip by his kids, friends and the co-host of his YouTube channel Andy Frost (the 'Balding Bishop').

Ellerington says, "To be honest, it has been a very hard start getting through the Pyrenees Mountains with 50 miles winds and a surfboard. After 100 miles my feet are absolutely full of blisters! Everyone I have met so far wants to know about the surfboard and I have the pleasure of sharing the vision of Surf Church and also that faith is an adventure, not something that is dull and boring."
The full journey is being documented on the 'Ginger Vicar and Balding Bishop' YouTube channel, which over the past year has documented a number of poignant and at times comical adventures, including becoming stuntmen in Morocco, bull riding in Costa Rica and 'wing walking' at 12,000 feet.
To track Rich's progress as he journeys along the Camino, visit the YouTube channel at
www.youtube.com/gvbbadventures

The opinions expressed in this article are not necessarily those held by Cross Rhythms. Any expressed views were accurate at the time of publishing but may or may not reflect the views of the individuals concerned at a later date.
About
Yasmin Sarwar
is a journalism graduate who has a passion for travelling and resides in Newcastle-under-Lyme, Staffordshire.
View all articles by
We welcome your opinions but libellous and abusive comments are not allowed.