Tony Cummings and Mike Rimmer quizzed the veteran singer and guitarist BRYN HAWORTH
Continued from page 1
In 1992 Bryn experienced a traumatic break from the Vineyard churches. "It came to an abrupt end actually. 'More Than A Singer' was the second worship album I'd done. It was a good album. I think it was ahead of its time for contemporary worship in '91/'92. The whole Vineyard thing came to an end with me. I would have stayed in it, I really would have, because I loved doing it. But it came to an end. I think maybe God doesn't have enough musicians out on the streets!" he laughed.
Looking back on this painful period of his life Bryn commented, "One of the major things I think that God really busted me on was that I suddenly realised that I'd been worshipping the church, not him. I was so in love with this whole Vineyard thing. It's blessed my life. It's given me so many good things. It's changed me and put so much good stuff into my life. But I realised that I was in love with it and I was confusing it with God, because I was so involved in God's work and doing this and that and I suddenly realised that it had become an idol. I was horrified when I saw that! I realised that I'd been worshipping something else - even though it had God all over it - and not him. It just brought me into a place of repentance and I thought, I'll never let that happen again."
In 1993 Kingsway Music released another milestone recording, the 'Bryn Haworth Band Live' album. "The live album was recorded at the Abraham Moss Theatre in Manchester. It was a great venue! The musicians in the band were all friends I'd toured with over the previous 10 years and some of us still get together for occasional gigs, depending on who is free at the time, and how far the budget will stretch."
In 1995 the 'Slide Don't Fret' album was released by Kingsway Music. Commented Bryn, "Neil Costello had a great room to record in. The blues sounded good in there! It was a converted barn with stone walls and had a good sound for drums - everything really! Kingsway were again very supportive which was a big help. And we got to spend a month in the lovely Derbyshire countryside."
Two years later Bryn recorded an album with worship leader Kevin Prosch who, like Bryn, had been expelled from the Vineyard stream of churches. 'The Finer Things' was an earthy, gutsy delight much praised by the critics. Remembered Bryn, "Recording in Kansas with Kevin was a great experience; I enjoyed the people and the music enormously. It was recorded live and mixed all in seven days! It was a shock when we heard about Kevin's 'moral failures', and I have certainly put a lot of prayer into my feelings about it and also for Kevin's restoration. It is sad when these things happen - but they do, and I've been so glad to hear that Kevin has found good friends and fellowship and that he hasn't fallen away. . . in fact quite the contrary, I understand."
In 1999 Kingsway released Bryn's 'Songs & Hymns' album. The veteran explained the genesis of that project. "I knew Dave Pegg of Fairport Convention from the '70s when we were all on Island Records, and we toured together then and remained good friends. I bumped into him in 1993 at Heathrow Airport waiting for a plane, and he asked me to play at the Cropredy Festival that year. He talked about the studio then and asked us to come and check it out some time. So I did - and ended up making the album there and recording some glorious old hymns was a great experience."
Into the new millennium Bryn continued to work - often going into prisons to play one man concerts - but health issues began to affect Bryn and Sally. These issues were indirectly to lead to the release of the compilation album 'Water From The Rock'. Bryn explained, "When Sally had cancer back in 2002 she made up a compilation on the computer of some of my songs which she found strengthened her in her faith. Then in 2004 I got ill and I started listening to it and it lifted my spirit too. That's why we put it out. I don't think we made money on it, but we certainly covered our costs, and got a faith lift to boot. We just thought other people might need strengthening too. I was seriously ill back in 2004 but God brought me through and I enjoy good health now, except for the occasional frozen shoulder. Touring does get harder as the years go by, but I still enjoy playing to people and so plan to keep going. About 50 per cent of my work these days is inside prisons, so there are not so many dates open to the public. We do usually put together a UK tour over the autumn/winter and will do so again this year to let people know about the new CD. At the end of each year we make a budget for how much we need to keep us going for the next year - and then pray for it. I've had to diversify over the years, but always through new doors God has opened. My income often comes from unexpected sources and opportunities. . . but all I can say is God is faithful and he provides."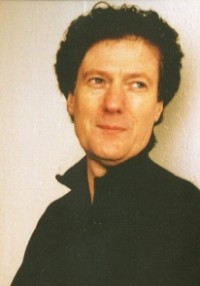 In 2005 Bella Music released 'Keep The Faith', an excellent album that showed that the veteran is still exploring new sounds and musical influences. He commented, "I always liked different styles of music and have felt freer to experiment as I've gone on. I think I'm getting better at self editing song wise, and I still enjoy songwriting. There is never enough money or time to record, but you do your best and hopefully people will still want to come and listen to you play."
Currently, Bryn is working on two new recording projects. He spoke about his latest projects with obvious enthusiasm. "One is an album of songs to give away to prison inmates and ex-offenders and the other is an album of new songs for general release for Christians and people on the fringes of church and society. We have recorded 13 completely new songs. 12 of these will be on the general release CD; six of the new songs will be on the prison CD, plus half a dozen tracks from previous albums which are particularly useful for prison inmates to help them grow strong in their Christian walk. The CD for prison inmates is called 'Inside Out'. The title track is a song based on Psalm 32 about how honesty with yourself and God changes you - from the inside out. The whole purpose behind this CD is to hand it to prisoners and ex-offenders to own and play for themselves as there is only so much that can be communicated in a prison visit/concert/service, and by strengthening them in faith hopefully helping them to live a better life both inside the prison and outside when they get released. I will write liner notes for each song and try to point them to Bible characters with similar stories/experiences so they can hopefully relate to the Bible in a more down to earth way. This CD is funded by The Music In Ministry Trust which helps support our prison work.
"The other CD being compiled, 'Sunflowers', is for the world at large, and is my usual eclectic mix of songs for believers, searchers and travellers. We made the recordings between January to March at ICC Studios in Eastbourne and return there at the end of May to finish the mixes. The albums will be available in the summer. Neil Costello has engineered and co-produced it with me, Henry Spinetti plays drums, Dave Bronze bass, Mark Edwards on keyboards, Mal Pope has provided the backing vocals and there is a guest appearance from Paul Jones, playing some wonderful harmonica on my 'train' song. Every blues player needs a train song!"

The opinions expressed in this article are not necessarily those held by Cross Rhythms. Any expressed views were accurate at the time of publishing but may or may not reflect the views of the individuals concerned at a later date.
About Tony Cummings

Tony Cummings
is the music editor for Cross Rhythms website and attends Grace Church in Stoke-on-Trent.

Reader Comments
We welcome your opinions but libellous and abusive comments are not allowed.