Tuesday 1st February 2000
GRAHAM KENDRICK'S millennium blockbuster was recently revealed to the media. Patricia Hargreaves was there.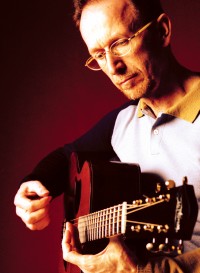 Graham Kendrick
The excitement that greeted the news that Britain's leading worship composer Graham Kendrick has written the Millennium Chorus, a big budget American TV project featuring such stars as Boyz II Men, Michael W Smith, Bob Carlisle and Michael Crawford, became rather more muted when we learnt that the BBC and ITV had "done a Cliff Richard" and turned it down. But there's still the video, album and DVD to come so Cross Rhythms sent me off to London's Planet Hollywood to the press launch.
I drove to Planet Hollywood, Piccadilly Circus, London, in the rush hour, carrying the most important thing to any one hour substitute journalist, a pen and a piece of paper. Perhaps next time they'll give me a palm-top computer complete with email, something to calm my nerves and protection from black cabs.
On arriving at the correct place, wearing my own shoes and a colour lip-stick Tony Cummings wouldn't be seen dead (or alive) in, I was directed to the upstairs restaurant. Realising this was just full of tourists enjoying their designer burgers, I solicited the assistance of a delightful young nutritional transference engineer and showed her my silver trimmed invitation. "Oh, you want to be downstairs, they're playing that Christian music down there!" Her facial expression displayed that look usually reserved for something distasteful. Oh, how I wished afterwards that I could have taken her to experience a feast of divinely tasteful Christian music.
Downstairs was where it was at. Now, in hindsight, it does seem sensible to have a private theatre in the basement of fast-food premises owned by celebrities. You just never know when you may need it! Due to an articulated lorry that became unarticulated in a very congested part of London traffic, I missed the first preview. Mr Graham Lacey very generously allowed myself and about eight other latecomers to have a second, private preview.
Now I can say that I could not have had a better birthday present. I went in, if I am honest, with a little hardness of heart towards yet another "Millennium" launch, but for an hour I forgot that life, London and all other deadlines existed.
Beautifully produced, the images more than complemented the lyrics and in some circumstances transported me on an actual emotional experience. We journeyed through 12 beautiful new songs written by Graham Kendrick, performed by well-known artists. Wonderful full-blown arrangements and a variety of styles, sensitively flowing from one to another, held my attention and gave total enjoyment.
From swallowing hard at the scenes of children and concentration camps with Michael Crawford's rendition of "How Still, How Silent" to Michael W Smith's "To The King Eternal" with beautiful old black and white footage portraying the resurrection of Jesus. From Maire Brennan "No Scenes Of Stately Majesty" and scenes of sea and sky to Wintley Phipps' deep soulful reminder of "No Need To Fear". Journeying round the world through colourful, moving images of places and people... You need to see it.
I would have liked to have asked Graham if he wrote "I Kneel Down" with himself in mind to sing it. It was spot on and brought me to a point of worship, simply yet effectively, before sweeping into "Amazing Grace" with the SDASA Chorale.
Their website says that this Millennium Chorus was used as a TV one hour special on New Year's Eve 100 countries crossing 24 time zones. Brilliant. Later, it will be performed by choirs, schools, community groups and churches throughout 2000. Hope so. It will be available on CD, tape, unedited video and DVD. When can I get mine? When can we have the audio for Christian radio? But how bitter, how disappointing that British TV passed on screening Millennium Chorus.
It is spectacularly creative television and I would be comfortable watching this with either my father, my daughter or even my (not yet too comfortable with Jesus) friends. Graham Kendrick has written songs and made a presentation that is acceptable to the secular media, portrays his gifting as a songwriter and yet in no way compromises the power and truth of the Gospel.
While UCB and Cross Rhythms continue to broadcast on satellite radio and the God Channel launch Dream Family Network on the Sirius satellite, let us pray for a witness such as this going out on the secular media. Again, I wish it was on in the UK! Britain's jaded telly output needs a programme like this. God bless and thank you, Graham Kendrick.

The opinions expressed in this article are not necessarily those held by Cross Rhythms. Any expressed views were accurate at the time of publishing but may or may not reflect the views of the individuals concerned at a later date.
About Patricia Hargreaves
Patricia Hargreaves is an experienced administrator who for many years worked with United Christian Broadcasters in Stoke-on-Trent.



We welcome your opinions but libellous and abusive comments are not allowed.