El McMeen comments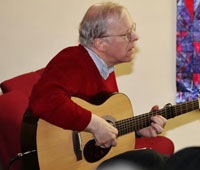 El McMeen
There is some cause for us to worry everywhere. We find it by the simple act of opening our eyes! Or opening a newspaper. Or turning on the TV. Or walking out the door.
It may be the weather, oil spills, global warming/global cooling (take your choice), the economy. It may be our kids, our parents, the neighbors, our jobs. May I stop now?
There are thousands of things for us to worry about. There may be some small solace in the idea that for most people causes of worry usually break down into three areas. They are: personal relationships (usually with relatives, friends, or neighbors); health; and finances (with a fourth category for young people being school). Sometimes we can be subject to a "perfect storm" of all of those. That is particularly unpleasant.
We resort to all sorts of remedies to deal with worry - some things that are obviously bad for us, some that are subtly bad, and some that may actually help us without having a "side effect" (one of my favorite examples of a euphemism) of hurting us.
I'm not against medications or therapy, but the New Testament has an awfully good "prescription" for us in dealing with worry. I call it the "P+3P" medicine. I can honestly testify to the reader that I have seen powerful breakthroughs in my own life by taking this "med". This is not to say that I have never taken an aspirin or other over-the-counter medication, but I have been able drastically to reduce the need to go that route.
P+3P is my little symbol for utilizing two concepts in the Bible. The first P stands for "Perspective" on our situation. The "+3P" represents the need to stand on 3 promises from God in the Bible, and in a certain order. Although that sounds like a formula or method, in fact what it reflects is a relationship between believers and God, in which believers place faith on the promises of God as their heavenly Father, who seeks only good things for His children.
The "Perspective" part of this is the recognition by us that worry is an attack of the enemy - Satan - seeking to separate us from God. We must understand that fact, and it comes from 2 Timothy 1:7:
'For God has not given us a spirit of fear, but of power and of love and of a sound mind.'
When that feeling of anxiety or dread hits us, when that spirit comes on us that gives us the chills, we need to stand on the fact that it isn't coming from God. It is an attack of the enemy. We start off with that, and then draw on what God does give us: a spirit of power to prevail, a spirit of love as a framework for the exercise of that power, and a sound mind to deal with the situation.
Another passage that I draw on for "Perspective" is Romans 8:15:
'For you did not receive the spirit of bondage again to fear, but you received the Spirit of adoption by whom we cry out, "Abba, Father."'
In trials we turn to our "Daddy" for help, and since He is a good Daddy, He gives us help.
The "+3P" symbol represents help that God has given us already, in the form of three promises in the Bible. We need to recognize those promises, and draw on them in faith.
The first promise is contained in James 4:8. That promise says that if we humble ourselves and draw near to God, He will draw near to us.

Reader Comments
We welcome your opinions but libellous and abusive comments are not allowed.