El McMeen shares his experience of anxiety about sleeping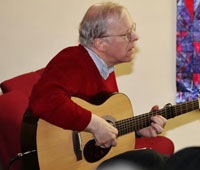 El McMeen
An article of mine called 'A Prescription for Defeating Worry' was published in May 2010. I believe that the article is biblical and helpful, but I want to share about a 'supplement' to that 'prescription'. Put another way, what happens if that prescription doesn't work? The article is missing something that I'd like to share here, with a testimony and a very simple, but important-message.
In the past 10 years I have had five attacks of a serious breathing problem. The first was in November 2004 and the most recent started on the night of March 16. They have always come in connection with a cold or other respiratory ailment, but are not the conventional congestion.

Beginning March 16, I had three nights of severe breathing difficulties that led me to have, literally, at most, two hours of sleep per night. The problem was not simply congestion; instead, my breathing passages would shut down, so that I couldn't get any air in or out of them. I would be gasping for breath, desperately trying to get air into my lungs, or I would be hyperventilating. It was something akin to an asthma attack.
I could not lie down and breathe. If I lay down, I would almost immediately be overcome by hyperventilation and this shutdown effect.
These may well have been the worst three consecutive nights of my life. I had gotten myself to a doctor on Tuesday and started a course of antibiotics, but the problem may have been viral (and therefore not treatable by antibiotics). In any event, the anxiety was severe and that was a spiritual issue. The word anxiety is too mild, in fact. I was overcome by panic and dread. Our new house had become a place of fear and confinement, not one of peace, joy and freedom.
I was in the grip of a demonic attack that was stealing my joy and trying to convince me that I couldn't breathe when I lay down. I tried to stand against the devil and say the right things, binding and loosing in Jesus, but I was so weak and fearful I was no match in any strength of my own. I probably looked pretty pitiful, in fact, croaking out the name of Jesus barely audibly. Maybe you have found yourself in a similar situation.
I was extremely discouraged and was looking forward to the nightfall on Wednesday with utter dread. That afternoon I took the 'supplement' to my earlier 'prescription': I reached out for a Spirit-filled Christian brother for a prayer of deliverance. He is my good friend, Rev. Tony Loeffler, who has written for Cross Rhythms too. Tony's organisation is the Solid Rock Evangelistic Association and does wonderful work in the prisons and in many other places of need.
Put another way, I stopped being a lone ranger and sought help from the church in my time of desperate need. That is the 'supplement' to my earlier prescription: always remember that God operates through His body the church.
Here's what happened: On Wednesday afternoon, I decided to call Tony in Florida. I left a message on his cell phone that I needed deliverance from fear.

He basically dropped everything and got back to me. I can report that after Tony's prayer of deliverance, a wonderful thing happened. The anxiety promptly and completely lifted! It was completely gone after the conclusion of the call.
It had nothing to do with my 'feeling better' after the call, or anything in the natural. It was not a medical treatment, or psychological therapy or support. It was simply the supernatural power of God that completely dissolved the power of Satan in my life at that time.
Satan's lies had been exposed. For example, I was dreading the night because that was when I was most fearful. Yet, God designed night for us for our rest and the minimisation of external stimuli that would threaten our rest. Night was to be appreciated, not feared.
As a result, I could go about my physiological issues with a sound mind, understanding that the house that had given me recent feelings of restriction and even oppression was, in fact, a place of great joy and a blessing from God. As the Lord had revealed to me in the past, there is a huge difference between worry and preparation. The worry - at the level of extreme anxiety for me - was opening the door for serious effects on my heath. Anxiety had given way to preparation.
At around 10pm that night I went to bed. Since I was restless in bed, I chose to sleep sitting up in the chair that I had earlier arranged for that purpose. The reason was choice, not fear of being unable to breathe. That was a huge distinction. The chair helped me to 'gear down' my metabolism so that I wouldn't be restless in bed trying to force myself to sleep.
It worked! I did two stints in the chair until about 1am and then went to bed and slept uninterrupted until about 4:30am. That was a huge breakthrough. And this happened on the first day of spring! How about that!
The next night, March 21, I slept through the night in bed - no need for the chair - and each night thereafter was progressively better, as Tony had prophesied over me on Thursday when we talked again by phone and I gave him the report.
So, the moral of this somewhat lengthy story is simple: don't hesitate to reach out for a Christian brother or sister when in need.

The opinions expressed in this article are not necessarily those held by Cross Rhythms. Any expressed views were accurate at the time of publishing but may or may not reflect the views of the individuals concerned at a later date.
About El McMeen
El McMeen
is an internationally acclaimed acoustic guitarist and author, with 11 solo CD's and numerous books of guitar music to his credit. He formerly practiced as a partner in the New York-based law firm of LeBoeuf, Lamb, Greene & MacRae, LLP. He serves as a lay minister volunteer.
For more information please visit his website
View all articles by El McMeen
Reader Comments
We welcome your opinions but libellous and abusive comments are not allowed.