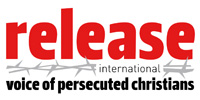 Release International
A court in Azerbaijan has ruled to close down Greater Grace Protestant Church in Baku - in what is believed to be the first forced liquidation of a religious group in the country since the tough new Religion Law was passed in 2009.
'Our concern is that other churches could now be forced to close,' warns Andy Dipper, the Chief Executive of Release International.' The Azerbaijan authorities have long been suspicious of Christianity. Church leaders fear this latest step may be the start of a new phase to apply the force of law to eradicate churches and Christian activities.'
The decision to close the church was announced on April 25, according to liberties group Forum 18, at a hearing where the church was not even present. The court's decision will come into force after one month, unless Greater Grace Church appeals.
The church says it will appeal all the way through the courts - even to the European Court of Human Rights if it has to.
'Please pray that Greater Grace Church will win their appeal,' says Andy Dipper. 'In Azerbaijan there is no freedom of religion without state permission, and that is no freedom at all. This is a backwards step for Azerbaijan.'
If the court ruling is upheld all religious activities by church members would be deemed illegal. That would include holding meetings or being in possession of religious literature. Fines for church members would be around a year's wages (at minimum wage) and up to five times higher for church leaders.
The 2009 Religion Law requires the compulsory re-registration of religious groups. According to Forum 18, the overwhelming majority of religious groups that have been granted re-registration are Muslim. Hundreds of others are still waiting to hear from the authorities.
Greater Grace Church first registered in 1993 and says it was never formally required to re-register and received no warnings of impending legal action.
In the past the authorities acted in secret to close down churches. Now observers fear they could act openly, with the backing of the law.
It's believed this is the first time the law has been used to close a church, although the authorities carry out raids on religious communities, confiscating literature and imposing fines.

The opinions expressed in this article are not necessarily those held by Cross Rhythms. Any expressed views were accurate at the time of publishing but may or may not reflect the views of the individuals concerned at a later date.
About Release International
Through its international network of missions
Release
serves persecuted Christians in more than 30 countries, by supporting pastors and Christian prisoners, and their families; supplying Christian literature and Bibles; and working for justice.
View all articles by Release International
We welcome your opinions but libellous and abusive comments are not allowed.