As Jeremy Hunt announces review into attacks, Release says Nigeria, China and India are countries of special concern for the coming year.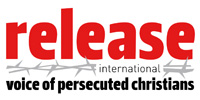 Release International
Nigeria, India and China are countries where Christians face increased persecution in the coming year, warns Release International. The warning comes as Foreign Secretary Jeremy Hunt insists the UK must do more to help persecuted Christians around the world.
Jeremy Hunt has ordered a review into an estimated 215 million Christians who face violence and discrimination. According to official figures, violence against Christians is rising, with 250 killed each month.
'Release warmly welcomes this review into what is a worrying upward trend in persecution against Christians,' says Paul Robinson, the CEO of Release International. 'And we back the call for the UK to do more to support the suffering Church worldwide.'
This Christmas, militants attacked Christians in Nigeria; a planned attack was foiled in Karachi, Pakistan, and security has been tightened around churches in Egypt ahead of the Coptic Christmas, on January 7.
Partners of UK-based Release support the view that persecution is rising and warn the trend is set to continue into 2019.
Among the countries named by Release as of particular concern for 2019 are Nigeria, India and China.
Nigeria
In Nigeria, Fulani militants look set to continue devastating attacks against Christians in the north and central Nigeria. In the first six months of 2018 alone, they killed up to 6,000 and drove 50,000 from their homes.
A Release partner said, 'The escalation in killing is very clear. There is a deliberate plan to destroy and take over the predominantly Christian communities in the region.'
The heavily armed Fulani militants are following in the footsteps of Boko Haram by driving Christians out of the north, believes a Release partner, who describes the attacks as 'a strategic modern-day jihad.'
China
China has seen a sharp increase in government opposition to religion, including Christianity.
Tough new rules, which came into effect in 2018, have banned children and young people from church meetings. In some areas, house churches unwilling to come under state control have split down in order to survive. They continue to meet in small groups limited to 15 people to avoid coming under scrutiny by the authorities.
China has been continuing a policy of removing Christian symbols and closing churches. Increasingly, they are targeting the larger unregistered house churches. A Release partner believes they have been emboldened to close these higher profile churches by the lack of opposition from the West. 'The government wants to reduce Christianity to just a minor activity by unimportant older people,' says a Release partner.

We welcome your opinions but libellous and abusive comments are not allowed.