Friday 20th September 2019
Kat Mills encourages us to look further than a person's appearance and to give others a chance just as Jesus has given us.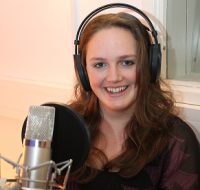 Kat Mills
I'm sure you've heard the phrase "Don't judge a book by its cover", but I wonder if it is so familiar that we forget what it means and how to apply that in our lives? It's about not making snap judgements or writing something off just because of the outward appearance - without digging deeper and without taking the time to get to know what's inside.

I think that we would all like to be people that don't judge but the reality is that it is too easy to incorrectly read into a situation, misinterpret what someone has said, and refuse then to see anything good from that person. Of course, I am no saint and I have fallen into this trap time and time again. One single hurt, one single misdemeanour in the past can leaving us writing off a person.
Here is the kicker - when this happens to you it sucks. When you are the one who has been misjudged, misunderstood, or disregarded, it is painful, frustrating and it just feels plain unfair.
I got into a situation recently where I felt like this - I started to feel sorry for myself and then a thought hit me. If this is how others feel when I am the one to write them off, not willing to give them a second chance, or see past a mistake, or a past hurt, I am judging them by their past and not their present.
What can I take away from this? I want to be better at being someone who takes time, with plenty of patience, to give people second chances, and be willing to see through different and gracious eyes.
Why do I want to be like this? As a Christian this is what God does for me. He doesn't write me off or hold my mistakes over my head. When I ask for forgiveness, He cleans the slate, He gives me a fresh start - a new page.

He sent His son, Jesus, to pay the price for my sin, so that he could give me a new start. He sees under the surface and into the depths of my heart. He loves me and gives me multiple chances. This inspires me, gives me such joy, and peace in my heart. It makes me to want to do this for others.
I want to encourage you today to be people who look deeper. People who are willing to reflect and remember the times in our own lives when others have forgiven us, covered us in grace and given us a fresh start. People who are willing to extend that to others and see the heart of the person standing in front of us - not just the outward appearance.

The opinions expressed in this article are not necessarily those held by Cross Rhythms. Any expressed views were accurate at the time of publishing but may or may not reflect the views of the individuals concerned at a later date.
About Kat Mills
Kat Mills
is a
Christian singer-songwriter
, choir director and worship leader from Surrey. Trained as a primary teacher she is currently a stay-at-home mum passionate in using music to connect with people and to share her faith.
www.katmills.co.uk
View all articles by Kat Mills
We welcome your opinions but libellous and abusive comments are not allowed.