Kat Mills encourages us to seek God's love, healing and peace.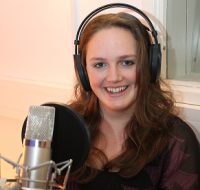 Kat Mills
I wrote 'The Everlasting God' a few years back, yet for some reason kept getting a waiting signal of when to release the song. Now as I re-read the lyrics of this song in the light of Covid-19 the pandemic that has hit this world, it seems clear to me why the time to release this song was now. In the bridge the lyrics are "Even when it goes wrong, even when the fears are raging, even when my faith is wavering, help me trust in you." Seems relatable doesn't it?!
Currently we are in the midst of lockdown and social isolation, there is a lot of uncertainty and a lot of things in our eyes have gone horribly wrong. Life as we know it has changed dramatically overnight, we are living day to day with no idea how long this will continue, and fears are raging around us like a thunderous storm. So more than ever we need help to trust in God, and to keep believing.
This song is brutally honest that life is hard, things go wrong, and we struggle. It's also about proclaiming God's goodness that no matter what happens God is still God, and he is still good. He is the Everlasting God - and this song is about that.
One of the most important things I have learnt in my journey as a Christian is the power in worshipping and praising God in the middle of a storm. It's not about waiting until everything is calm. Strength, peace and joy come when I have fixed my eyes on God despite pain, fear and uncertainty.
Why? Because I believe that He is the Everlasting God, that he is glorious and worthy of all praise. I believe God is the God of the impossible, the creator of the universe, and when I call on his name, and praise him and look to him I am surrendering my need for control and placing my trust in him. And I can honestly say that despite all the awful and scary things going on at the moment I have a deep founded peace, and a joy that is continually bubbling up out of my heart.
The more I praise God, the more I call on his name and trust him to provide for all my needs the more I find strength and peace despite the fact that I have no idea when this will all end and no clue of when I will be reunited with my family. What I do know? Is that The Everlasting God is full of mercy and grace, forgiveness, love, healing and peace which is open and available to anyone willing to receive it.
I pray this song ministers to you and encourages you and shares the incredible love of God with you.


The opinions expressed in this article are not necessarily those held by Cross Rhythms. Any expressed views were accurate at the time of publishing but may or may not reflect the views of the individuals concerned at a later date.
About Kat Mills
Kat Mills
is a
Christian singer-songwriter
, choir director and worship leader from Surrey. Trained as a primary teacher she is currently a stay-at-home mum passionate in using music to connect with people and to share her faith.
www.katmills.co.uk
View all articles by Kat Mills
We welcome your opinions but libellous and abusive comments are not allowed.