Thursday 23rd January 2020
Kat Mills encourages us to fulfil what we were created to do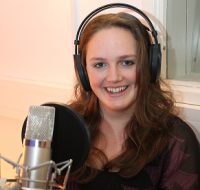 Kat Mills
I always feel reflective in January as I look back on what has happened over the last year and look forward to what is to come. How I come across to others and the impact that I am having on those around me is something that has really been on my mind. What am I putting out into the world and what legacy am I leaving? A legacy isn't just material items you leave when you pass away, but also the lasting memories you leave, the influence you have and the impression you make on those around you right now.
In 'A Christmas Carol' Scrooge is negatively impacting all those around him with his mercenary and cold-hearted ways. But when he changes his attitude and allows love to thaw his cold heart, he is able to live and leave a legacy of love, kindness, and generosity which transforms the lives of those around him.
Just the other day I experienced a beautiful moment with my son which affirmed how I choose to and long to live my life. We were doing some art and craft together and I praised him for his hard work and effort. He just looked at me with a big beaming smile and said, "Thank you, Encourager!".
My heart felt like it would burst with joy, my six-year old son had summed up exactly the legacy I want to leave - encouragement. It really blessed me. It's sometimes easy to feel like all those little things - words of affirmation and the continuous love through toddler meltdowns are not seen or valued - but then his three words reminded me of the impact we can have. He had worked out that he knew above all else that I want to encourage him.
Encouraging others and seeing them grow in confidence and being released into who they were created to be makes me feel like an excited child who has just been told they are going to Disneyland. It makes me feel like spinning around with giddy joy and clapping my hands with delight. Sometimes I do both! Why? It is because I know that I am fulfilling what I was created to do, and more importantly who I was meant to be. Encouragement is at that core of all I do and at the innermost part of my being. When I encourage and affirm others, I fulfil my God-given purpose in life.
I want to encourage you at this start of a new year to take a moment and to think what is it you were made to do and who were you created to be. I believe in a loving and awesome God who not only created the entire universe but who also cares about each of us. Moreover he has a plan and a purpose for our lives - a plan and a purpose that will bring joy to us and those around us.
So what legacy do you want to leave? What is it that fills your heart with pure delight and makes a positive and lasting impact on those around you?
If you look at your life and feel that you aren't leaving the legacy you wanted to, it is not too late! God always gives us the strength to start again when we mess up, the grace to forgive us when we make mistakes, and the hope that He has so much more for us.

The opinions expressed in this article are not necessarily those held by Cross Rhythms. Any expressed views were accurate at the time of publishing but may or may not reflect the views of the individuals concerned at a later date.
About Kat Mills
Kat Mills
is a
Christian singer-songwriter
, choir director and worship leader from Surrey. Trained as a primary teacher she is currently a stay-at-home mum passionate in using music to connect with people and to share her faith.
www.katmills.co.uk
View all articles by Kat Mills
We welcome your opinions but libellous and abusive comments are not allowed.