Release launches campaign to free Eritrea's prisoners of faith.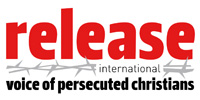 Release International
Eritrea has now arrested 200 Christians in house-to-house raids, in a tough new crackdown which is tearing children from their parents. Young children and a baby are among those arrested. It's feared they could spend their childhood in a prison cell. Release International is calling on Eritrea to free the Christians and has launched a campaign calling for concerted prayer for Eritrea's prisoners of faith.
Security forces in Eritrea have been going house-to-house arresting Christians. They have rounded up 177 adults, along with some 20 small children. The arrests are continuing and many Christians have gone into hiding.

Release International partner Dr Berhane Asmelash says rounding up Christians door-to-door is a new tactic that signals a worsening of the crackdown. He believes the single-party state is taking a tough new line against the church.

'People used to be arrested for conducting unauthorised meetings, such as Bible studies or prayers. But this is new for us when they go from house to house. They are arresting people for their beliefs, not for their actions. This is getting worse. Many Christians are in hiding.

'Security forces in different towns went from house to house asking people their religion. If they were outside the [state sanctioned] Lutheran, Catholic, Muslim and Orthodox faiths, they arrested them.

'Twelve children were arrested with their parents, and some parents were forced to leave their underage children unattended.'

Children who are too young to be separated from their mothers face being brought up in jail unless their parents are released. They include a two-month old baby.

Dr Asmelash was himself arrested and tortured in what is today called Eritrea. These latest arrests, he said, have brought fear to the Christian community. 'People are scared.'

In 2002 Eritrea outlawed many Christian denominations and shut down Evangelical and Pentecostal churches. Christians who refused to renounce their faith were jailed indefinitely without trial.

173 long-term prisoners of faith remain behind bars in brutal conditions. They include many church leaders. The latest clampdown began in May and has continued into June, as security forces seize Christians for being members of banned denominations.

Eritrean Christians around the world are praying and fasting.

'Eritrea today is like one giant prison where hope has disappeared and where the majority of people are denied simple freedoms, basic human dignity and human rights,' says Paul Robinson, the CEO of Release International which supports persecuted Christians.

'We are calling for the urgent release of all Christian prisoners of faith in Eritrea, including the 173 who have been detained in appalling conditions for more than 10 years.'

Release is also asking Christians in the UK and Ireland to download and sign a postcard calling for the prisoners to be set free, and send it to the Eritrean Embassy in London.

The postcard urges 'the immediate and unconditional release of all Christian prisoners of faith, many of whom have now been detained in jail for ten years or more. These prisoners are law-abiding citizens who provide no threat to your government.'

'We are asking Eritrea to act compassionately towards these prisoners, many of whom have suffered ill-health while in prison,' says Paul Robinson. 'And we are asking Christians here to make a pledge to pray for Eritrea's suffering prisoners of faith for 173 days,' he adds.

The opinions expressed in this article are not necessarily those held by Cross Rhythms. Any expressed views were accurate at the time of publishing but may or may not reflect the views of the individuals concerned at a later date.
About Release International
Through its international network of missions
Release
serves persecuted Christians in more than 30 countries, by supporting pastors and Christian prisoners, and their families; supplying Christian literature and Bibles; and working for justice.
View all articles by Release International
Reader Comments
We welcome your opinions but libellous and abusive comments are not allowed.