Thursday 16th November 2006
El McMeen looks at whether we've got our priorities right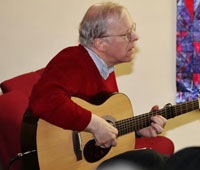 El McMeen
I've been thinking about God and anthills a lot lately. OK, much more about God...but stick with me here.
Have you ever stood over an anthill, and watched all the activity? It's like a little town, with all the citizens running around doing their tasks. Some carry very large objects around. The queen is the egg-laying empress; the guys do their manly duty and proceed to die. Scientists have made massive studies of ant societies.
As I stand over the anthill, however, I realize that the ants are totally oblivious to me. They are very busy, to be sure, but there I am, much bigger than any of them, with power to put my big old shoe on them and send many of them to ant heaven.
Which brings me to God. How often are we running around and doing the same types of things, and being oblivious to Him? Rather than my big foot and discount shoe, He offers a hand, a gift and a Way! And He loves us, and is "gracious and full of compassion, slow to anger and great in mercy" (Psalm 145:8).
If we tell ourselves that we are not like these ants, let us remember the wonderful story of Mary and Martha in the Bible - Luke 10:38-42.
Martha invited Jesus and the disciples to her home. Martha is responsible, serious and desirous of pleasing the Lord. She gets herself in a dither, rushing around, making people comfortable and making preparation to serve the guests.
Her sister Mary, on the other hand, sits at the feet of Jesus, taking in everything He says.
Martha brings this to the attention of Jesus, and asks Him to "tell [Mary] to help me." That seems reasonable, right? Why should Martha do everything, and Mary get to hang out with Jesus?
Jesus, however, has the wisdom and perspective of the ages (Luke 10:41-42):
"Martha, Martha," the Lord answered, "you are worried and upset about many things, but only one thing is needed. Mary has chosen what is better, and it will not be taken away from her."
How often are we like Martha? How often do we go about our lives in our own respective ant colonies, without looking up, and fully appreciating the hand, the gift and the Way that we are offered?
Only one thing is truly "needed". It is "better", and with our understanding of the enormity of the gift, our acceptance of it and our repentance and desire to conform ourselves to our Savior, the gift "will not be taken away" from us.

The opinions expressed in this article are not necessarily those held by Cross Rhythms. Any expressed views were accurate at the time of publishing but may or may not reflect the views of the individuals concerned at a later date.
About El McMeen
El McMeen
is an internationally acclaimed acoustic guitarist and author, with 11 solo CD's and numerous books of guitar music to his credit. He formerly practiced as a partner in the New York-based law firm of LeBoeuf, Lamb, Greene & MacRae, LLP. He serves as a lay minister volunteer.
For more information please visit his website
View all articles by El McMeen
Reader Comments
We welcome your opinions but libellous and abusive comments are not allowed.