Thursday 26th August 2010
The Second World War Miracles Part 2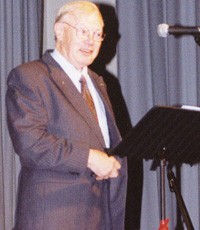 Dr Victor Pearce
'Arise, shine for your light has come and the glory of the Lord rises upon you. See darkness is on the land and deep darkness on the peoples, but the Lord rises upon you and his glory appears over you.' We live in days when this scripture is beginning to be fulfilled. But the time of darkness and light together, will bring about a greater time of 'spiritual warfare' and will necessitate a deeper call to prayer. To help us get a sense of the power of prayer and the revealing of God during warfare we need look no further than WWI and WWII. These were extraordinary days in our nation to live through. Dr Victor Pearce (now 94) lived in both wars and chronicled the amazing stories of the revealing of the power of prayer and the intervention of the Lord during warfare. This is the fifth in a series of articles revealing these stories. I think you will be moved and inspired, and I pray the Spirit of God will speak into your spirit through what you read - Jonathan Bellamy, Cross Rhythms CEO.
Tunbridge Wells Empty!
Figure 7.6. The town that stood still: local traders stop to pray. Source: The Christian Herald, July 25th 1940
Resulting from the inspiration of the call to prayer, we have the story of 'The Town That Stood Still'. A local greengrocer put forward the idea that every shop should close one morning in July 1940 for an hour of intercession. It received the enthusiastic support of the local Traders' Association so the people of Tunbridge Wells, as never before in their history, put themselves in God's hands.
Tennis Courts Empty!
2. The second Day of Prayer was on Sunday, August 11th, 1940. This was a national youth call to prayer. The King had called all the young people to pray. I was walking past a large area of tennis courts on the way to church. The tennis courts were deserted except for a perplexed young man holding a tennis racket. He was completely alone.
'Where have they all gone?' he exclaimed.
'They're all in church praying for national deliverance,' I said. 'Why don't you go!'
'I can't believe this! My pals have never gone to church even once in their lives!'
The Answer
Britain could not know that within the week that followed, the overweight Nazi, Air Field Marshall Goering, commenced the first stage in the Battle of Britain. It failed. The relatively small British force of Spitfires and Hurricanes shot down 180 Nazi bombers over South-east England. The rate of interception excelled by far anything that could be expected or explained by radar, said our air commander.
3. The next national Day of Prayer was only a month later on September 8th, 1940. Calling for another Day of Prayer so soon showed how desperate Parliament knew the situation to be.
The answer again was immediate and it was during this period that people in the streets began to see angels in the sky. A more determined Nazi air attack was made by sending five fighter planes to accompany every single bomber during the week following. Yet against all odds, as many as 185 Nazi planes were shot down. It was sad for us padres to see the empty canteen tables of those who did not return, but they had shot down a far greater number than our own losses. In fact Air Chief Marshall Dowding said: 'I will say with absolute conviction that I can trace the intervention of God . . . Humanly speaking victory was impossible!'
And that was during the week following our third National Day of Prayer, and the newspapers were not afraid to print that statement by Dowding.
Goering, the Nazi commander, expected success and in anticipation Hitler had prepared invasion barges at Bremen. But I see in my notes taken at the time that a terrific storm in the channel and North Sea blew away those invasion barges. The result was that the invasion of Britain was postponed. This was vital, for it gave Britain more time to manufacture armaments to re-equip our depleted forces.

Reader Comments
We welcome your opinions but libellous and abusive comments are not allowed.