Journalist Andrew Boyd presents the June update on persecuted church matters.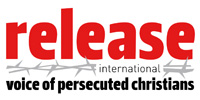 Release International
RI's latest 13-minute video webcast features special reports from Burma, Ethiopia and India.
Burma: 'They tried to stop me to publish any Christian book. In the letter they say several times that if you publish more. any more, we'll sentence you for 12 years.' Burmese Christian publisher
Ethiopia: 41-year-old Evangelist 'Balay' knows the dangers of being actively involved in spreading the gospel.
India: Hindu extremists are stepping up their campaign of violence against Christians. Militants have been calling in TV crews to film them attacking missionaries and pastors.
The next webcast will be available at the beginning of July.
The webcast is in Windows Media Video format (wmv), and plays using Windows Media Player by clicking on the link below.
If you wish to download the file to your own computer, right click to 'save target as' or 'save link as'.
Download World Update Webcast - June 2007 (22mb)

The opinions expressed in this article are not necessarily those held by Cross Rhythms. Any expressed views were accurate at the time of publishing but may or may not reflect the views of the individuals concerned at a later date.
About Release International
Through its international network of missions
Release
serves persecuted Christians in more than 30 countries, by supporting pastors and Christian prisoners, and their families; supplying Christian literature and Bibles; and working for justice.
View all articles by Release International
We welcome your opinions but libellous and abusive comments are not allowed.