Islamist terror group Boko Haram have executed a state chairman of the Christian Association of Nigeria (CAN).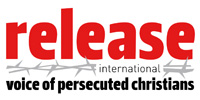 Release International
They kidnapped Rev Lawan Andimi during a raid on Michika in early January. He was abducted by men in military uniform who drove into Michika in convoy, ransacked the town, and bundled the CAN chairman into a Toyota Hilux.

On January 20, the terrorist group informed a Nigerian investigative journalist they had killed him.

Ahmed Salkida, who is described as an expert on Boko Haram, was sent a video of the beheading. There were two victims: the Rev Andimi and a soldier, who has not been named.

The journalist declared on Twitter: 'To break some news items can traumatise. I'm battling with one of such. Reverend Andimi, abducted by #BokoHaram was executed yesterday. Rev. Andimi was a church leader, a father to his children and the community he served. My condolences go to his family.'

Earlier, Boko Haram had released a video of the church leader, in which he spoke movingly and with confidence about his faith. The Rev Andimi appeared unflustered, and declared he was not discouraged because he was 'in the hands of God'.

Calling on the state governor to press for his release, he told his family, 'God is still alive... Don't cry, don't worry, thank God for everything.'

The Rev Andimi was the state chairman of the CAN in Adamawa. Nigerian media report that Boko Haram demanded a ransom of £2 million, before they killed him.

On January 6, CAN stated that Boko Haram had also kidnapped a second pastor, the Rev Joshua Samaila. They seized him along with 40 others during an early morning raid on Kasaya village in Kaduna.

Attacks by the Islamist terror group Boko Haram are continuing.

The Anglican Archbishop of Jos, Release international partner, the Most Rev Benjamin Kwashi, says 'Nigeria has become the largest killing ground for Christians in the world today.'

CAN has urged the governments of Nigeria, the US and the UK to take steps to safeguard the lives of Nigerian Christians.

Release partner Archbishop Benjamin Kwashi, calls for prayer to Nigeria in his new book Neither Bomb Nor Bullet.

He writes: 'Please pray for Nigeria. Pray that God would bring some help to the suffering communities, particularly in the north-east: not only Christians but the non-Christians and Muslims as well. They have been devastated. They are poor, and there is hunger in the land. Pray, please, for Nigeria's government, to take up the responsibility of executing justice for all, protecting lives and the property of everybody, without favour or selection.'

'But pray most of all that out of our sufferings will come the kind of Christian faith that will be admired, both on earth and in heaven, depicting the love of Jesus Christ, a faith that is fervent in both preaching the gospel and living the gospel. A faith that will invest our all in the mission of the gospel of Christ. That is our prayer request.'

Neither Bomb Nor Bullet, by Andrew Boyd, tells Archbishop Kwashi's remarkable faith story and seeks to explain the current crisis in Nigeria.

The opinions expressed in this article are not necessarily those held by Cross Rhythms. Any expressed views were accurate at the time of publishing but may or may not reflect the views of the individuals concerned at a later date.
About Release International
Through its international network of missions
Release
serves persecuted Christians in more than 30 countries, by supporting pastors and Christian prisoners, and their families; supplying Christian literature and Bibles; and working for justice.
View all articles by Release International
We welcome your opinions but libellous and abusive comments are not allowed.