As persecuted Christians around the world prepare for an Easter in lockdown, there are calls for prisoners of faith to be released from overcrowded jails where the virus could spread like wildfire.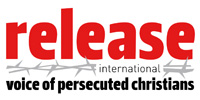 Release International
Partners of Release International, which supports the persecuted church, have been gathering news about how Christians are continuing in their faith during the Easter lockdown, in countries where they face persecution.
In China, the coronavirus is giving Christians an unexpected opportunity to share their faith and reach out to those around them.
China is notorious for its use of advanced surveillance techniques to monitor and control its own citizens. For years, Release's partner has been reporting on how China has been clamping down on the church and trying to prevent the spread of Christianity.
It is now widely held that there are more Christians in China than members of the communist party, and the atheist state has long been treating the spread of the faith like an unwelcome virus.
'Christian virus'
'We're heartened to hear reports of Christians in China sharing their faith as they distribute medical supplies, and using facemasks to evade the ever-present surveillance cameras,' says Release CEO Paul Robinson.
'Right now our own lockdown is a timely reminder that Christians around the world have been literally imprisoned for their faith for years,' says Paul Robinson.
'For others, it means a denial of the basic freedom of belief and right to public worship. Yet Christianity continues to spread this Easter, despite the pandemic. Please remember our persecuted brothers and sisters at this time, as we all share a little of that hardship.'
Release is backing a UN call to release prisoners of faith from overcrowded jails in Eritrea, where the virus is likely to spread. 'Many have been locked up for years, just because of their Christian faith,' says Paul Robinson. 'It's high time to set them free. We are already seeing encouraging signs from Iran that some Christian prisoners are being released. We hope Eritrea will follow suit.'
Online services banned
Around the world, the internet has become the principal way for isolated Christians to keep in touch. But the Chinese authorities have banned online services.
Release partners Voice of the Martyrs USA say Chinese officials in Shandong Province have banned online preaching during the coronavirus pandemic.
Officials have called for the 'complete eradication' of fellowships that avoid coming under state control.
Elsewhere in China, a pastor has been detained for sharing a post on social media about the virus, reports Radio Free Asia. And a Christian, Sun Feng, was seized by state security officers after asking friends to pray and fast during the outbreak.
Throughout the pandemic, China has continued its campaign of demolishing churches and tearing down crosses, states Release partner ChinaAid. Government officials have been inspecting homes to remove religious symbols, and China has also stepped up its campaign against churches that meet in private rather than submit to state control.

We welcome your opinions but libellous and abusive comments are not allowed.