Matthew 13, 2 Corinthians 12:10

El McMeen talks about how even during difficult times we can still do the work of the Lord.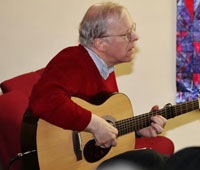 El McMeen
I haven't written for Cross Rhythms for a while, and had this idea of journaling my weeding adventures. I had been spending hours weeding in our back, felt somewhat in control, and was ready to share wisdom about weeds, roots, soils -- the whole deal tied to Christian principles. All very neat. Parable of the sower stuff: e.g., Matthew 13.
God had other ideas. After foolishly pulling off massive poison ivy vines from a tree in our yard, I was stricken with an extremely severe case of poison ivy. I was taken to the ER in the middle of the night on July 1, given a dose of meds and a prescription, and sent home.
The meds worked on the poison ivy, but left me incapable of walking but a few steps in the house. Extreme fatigue. Not good for a guy who is 72.
All of a sudden it was no longer a nice article about weeding. I was instead in the mode of "I am really weak, and the Father is really strong." Not the nice, clinical, me-in-control situation I wanted.
I had never been enamoured of 2 Corinthians 12:10 (KJV):
Therefore I take pleasure in infirmities, in reproaches, in necessities, in persecutions, in distresses for Christ's sake: for when I am weak, then am I strong.
Now I was called to live it out.
The Lord has blessed me with the benefits of digital communication, and access to the outside world through the Internet. I said, "OK, Lord, I'm a mess, but let's consider this a ministry opportunity. What do you want me to do?" Believe me, I wasn't a titan of the faith when I asked that. It was more in the nature of exploring the whole "me-a-weak-mess-and-He-really-strong" teaching. It was desperation.
Well, here's what He did. The Lord first put in front of me a friend in a wheelchair who had just lashed out on Facebook in frustration against an antagonist. I'll tell you that when you can't move three steps without fear of collapsing-and you can't even help your wife with basic tasks like taking the garbage out - well, you can relate to a friend in a wheelchair. We comforted and exhorted each other online. One reason for the Lord allowing situations like this (and that's a whole other subject) is that, simply, we as frail humans can't feel empathy any other way than personal experience. (Thank you, King Jesus, for being a suffering servant while in earthly form!)
In connection with my ministry to prison inmates, the Lord set before me three new men, through the work of Rev. Tony Loeffler and the International Solid Rock organisation. Those men were fired up for the Lord, and I could speak some encouragement and wisdom into their lives, just through a keypad and the Internet. I didn't have to be able to run a marathon.
Earlier this year, the Lord had started me on daily devotions with my wife Sheila. We had never done this in nearly 48 years of marriage! I admit it. Those daily devotionals gave me a context to describe my pain, frustration, and limitations, without appearing to whine too much.
There is more: this time of immobility has allowed me much more quiet time with the Lord, including the chance to absorb hours of wonderful teaching and encouragement from the online sermons of Bethel Church in Redding, California. After one of the sermons by Kris Vallotton on fatherhood, I was led to share some deep things with my children that I hadn't been able to share before.
The Lord also gave me ideas on music books I had been working on, and outlets for several guitar books that were finished or in process. He doesn't forget about our gifts in the natural, and He finds creative ways to "turbo-charge" those (in the words of Rev. Lon Solomon, retired Senior Pastor of McLean Bible Church in VA, USA).
In the middle of this period, he put a man before me from whom I had become estranged in recent years. At first, I thought this was a complication in my life, but rapidly realised that it was a ministry opportunity. I went to the Lord on what words to use, the Holy Spirit gave me words (and exercised restraint on my flesh), and I was able to share from the heart with him online.
Finally, my situation provided prayer opportunities for Christian brothers and sisters. I reached out to the leadership of my former church in Huntingdon, PA, USA - Word of Life Fellowship -- for prayer at their Wednesday night prayer group meeting. During the very time of that meeting, I felt the lifting of an oppressing spirit that had been on me! I reported that to the leadership to encourage them and build their own faith.
I'm still weak, but actually picked up the guitar and played some today. That itself was a blessing. Onward and upward.

The opinions expressed in this article are not necessarily those held by Cross Rhythms. Any expressed views were accurate at the time of publishing but may or may not reflect the views of the individuals concerned at a later date.
Sign up now to receive weekly Life Files, direct to your inbox.
We welcome your opinions but libellous and abusive comments are not allowed.