Thursday 28th September 2017
Matthew Murray shares his story of being healed from malaria after being given three hours to live.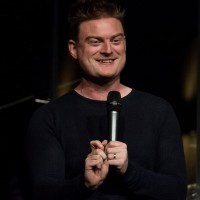 Matthew Murray
Matthew Murray and his wife Becky lead a church in Uttoxeter. They are also the founder directors of a charity called One by One, a missions organisation with a home and school for children in Kenya and a widows' feeding programme in Sri Lanka. He has a remarkable story of a supernatural healing from malaria, and with the release of his book 'He Still Heals', Jonathan Bellamy spent time with him to hear what happened.
Jonathan: Tell us something about the work of One by One.
Matthew: It's an organisation we started in 2011 and we work mainly in Kenya, but also now in Sri Lanka. We're reaching about ten thousand children every week with the gospel of Jesus Christ. It's a great privilege.
We run an orphanage, school, and several churches there. We help girls who are at risk of trafficking. We also have a project in Siri Lanka where we're helping widows who are victims of the war in Sri Lanka.
Dignity Project, Kenya
Life for us is all about stopping and caring for those in need. We call the organisation One by One and we simply focus on helping one person at a time and thank God. You know that's several years on and that's now 10,000 children every week so it's going pretty well.
Jonathan: One By One is based in Kenya and I believe you were out in Kenya when you got bitten.
Matthew: I did. It was 2014 and those little mosquitos, you see them and you think they are harmless enough, but they can do some pretty bad damage.
I was there, and I came back to England for two days, and then flew straight to America. I felt fine; I felt great, but about a week into my USA trip I suddenly started to feel very weak. I remember one morning trying to run, and going for a little exercise and I couldn't even get moving.
Sri Lanka
The following day I went to preach and felt so weak. I managed to get through my sermon, but as soon as I finished I literally collapsed. I fell to sleep and I knew something wasn't quite right. You know your own body and you know that things are not working, or moving as they should. I thought maybe this was worth getting checked out. I'm a typical man and I don't like going to the doctors, none of us do, do we? But I knew then this is pretty serious, I better at least go and get it checked out and see what the doctor says.
Jonathan: So you were in America at the time, where in America?
Matthew: I was in Mobile, Alabama. It was a place where we were doing some meetings. We were doing a big project there, trying to help some kids out, and raising some money, doing a banquet event in a hotel. I was the guest speaker, but I never made that event because I ended up in hospital.
Jonathan: And your wife was with you?
Matthew: She was with me and our three year old son was with me, Josiah. There were also a few friends there with us. We were out in the middle of nowhere, pretty much on our own. We had one or two really good friends, but that was it.
Jonathan: How did the doctors respond?

Reader Comments
We welcome your opinions but libellous and abusive comments are not allowed.