Saturday 8th September 2012
Release International report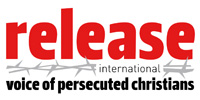 Release International
Court appearance on September 8
Concern is growing for imprisoned Iranian pastor Youcef Nadarkhani, who has been sentenced to death for apostasy - leaving Islam. Pastor Nadarkhani is due to appear in court again on Saturday amid reports that he may face different charges of being in breach of national security.
Release International, which serves the persecuted Church worldwide, understands the new charges may be brought to avert international criticism that the pastor is to be executed for his faith.
Pastor Nadarkhani was arrested in 2009 and sentenced to death for apostasy. That decision was upheld by the Appeals court, but later overturned by the Supreme Court - on condition that Nadarkhani returned to Islam - which he repeatedly refused to do.
He is due to appear in court again on September 8 on different charges, which are believed to include claims of 'repeated rape and extortion'. Those charges were first referred to last year in a report from the official Fars News Agency, which described Nadarkhani as 'guilty of security-related crimes'. He has also been accused of 'setting up a house of corruption'.
In that news report, the Deputy Governor-General of Gilan province for Political and Security Affairs, Gholam-Ali Rezvani, said: 'The issue of... capital punishment of this individual is not related to his faith or religion, as in our system no one can be executed for changing his/her religion... but he (Nadarkhani) is a Zionist, a traitor and had committed security crimes.'
The US Senate Foreign Relations Committee has passed a resolution demanding the pastor's release and condemning the sentence of death by hanging. In March, the UN Special Rapporteur on Iran reported the authorities had secretly executed 249 people in 2011.
'It looks as though Iran is smarting from international condemnation at imposing the death penalty for religious reasons,' says Release International UK Director Colin King, and these new charges against Youcef Nadarkhani are an attempt to deflect that criticism.'
Release has launched a campaign to support Christians in Iran, where Christians are viewed as enemies of the state - especially Christian converts from Islam. Around 17 Christians - mostly from Muslim backgrounds - are detained because of their Christian faith and activities.
'Release is calling on Christians in the UK to stand with and pray for our persecuted brothers and sisters in Iran,' says Colin King.
Meanwhile there are fears for the health of another imprisoned pastor, Behnam Irani, who has been repeatedly beaten in jail and now has difficulty walking and seeing.
Pastor Behnam, who is married with two young children, was convicted of 'crimes against national security' in January 2011 and was given a six-year sentence. His supporters say his real crime is leading a house church in Karaj. There have also been calls for him to be tried for apostasy or leaving Islam.
Despite his ordeal, Pastor Behnam's faith remains strong. When asked how he felt about spending six years in jail with 'killers' for company, he answered: 'If Jesus asked me to stay in prison for ten years with them, I would be happy to do it.'
Release has launched a Facebook campaign ('Release Behnam Irani') allowing people to email the head of Iran's judiciary direct and appeal for clemency. The page includes a short YouTube clip of Pastor Behnam's arrest.

The opinions expressed in this article are not necessarily those held by Cross Rhythms. Any expressed views were accurate at the time of publishing but may or may not reflect the views of the individuals concerned at a later date.
About Release International
Through its international network of missions
Release
serves persecuted Christians in more than 30 countries, by supporting pastors and Christian prisoners, and their families; supplying Christian literature and Bibles; and working for justice.
View all articles by Release International
We welcome your opinions but libellous and abusive comments are not allowed.